Big Tobacco takes on Australia over bland branding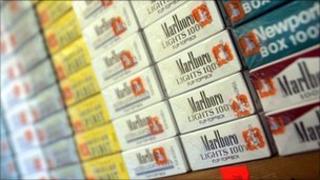 Australia has become the latest battleground in the ongoing global fight between Big Tobacco and government regulators.
At issue are the Gillard government's proposals to banish corporate logos from packaging, demand that all brand names be printed in the same bland font and that packets come in olive green - the colour that smokers apparently detest the most.
Australia already has some of the toughest anti-smoking measures in the world, with grotesque pictures of cancer tumours and gangrenous limbs printed on every packet, and cigarettes hidden in cabinets out of sight of consumers in shops.
But the plain packaging legislation would arm the Australian authorities with the toughest anti-smoking measures in the world.
Needless to say, Big Tobacco is determined to prevent the measures from taking effect, fearing the consequences in other, more lucrative, markets around the world. Britain, Canada and New Zealand are considering similarly stringent laws.
Tobacco companies could also be hit especially hard in emerging markets - where branding is a vital marketing tool in luring smokers from cheap cigarettes to more expensive ones - if governments there followed Australia's lead.
The tobacco industry has already mounted a fierce lobbying and advertising campaign. Its poster girl is a fierce-looking woman, seemingly modelled on a prison guard from the cult Australian television show Prisoner Cell-Block H, who barks orders at a smoker and keeps on demanding more money.
"I make the rules around here!" she shouts, "So I'm going to tell you where you can and cannot smoke."
"I'm over 18. It's legal," replies the smoker.
"Now I'm going to remove all branding so every packet looks the same," she continues, in the same scolding tone.
"You do realise I'm an adult and can make my own decision," the smoker says.
The punch line is that Australia is becoming a nanny state, and the advert urges smokers to contact their MPs to block the proposed legislation.
UN decision
This week, the tobacco giant Philip Morris also opened up a new front by threatening to sue the Australian government for possibly billions of dollars. The company, which owns brands like Marlboro, is claiming that the Australian government is devaluing its intellectual property and that this is in breach of an international investment treaty signed between Canberra and Hong Kong, where Philip Morris is based.
By going down this path, it means that the issue will be settled not in the Australian courts but by international arbitration. If there were to be compensation, it would be decided under United Nations rules.
"We are taking this action to defend our brands here in Australia," says Philip Morris spokeswoman Anne Edwards. "Brands are very valuable property and they can't simply be taken away… This is about making investments in our brands for many many years and those investments just can't be taken away like that."
British American Tobacco , whose brands include Winfield, Dunhill and Benson & Hedges, is also considering legal action.
Public health advocates believe that reducing brand identification will make smoking less attractive. Professor David Currow of the Cancer Institute of New South Wales, notes: "Two out of three smokers want to give up in the next six months. One out of two smokers has an emotional attachment to their particular brand and if we can break that we're going to be helping the two out of three smokers who want to give up."
More than 15,000 Australians die from smoking each year, and the health costs of smoking-related illnesses are thought to cost the economy some $A30bn ($32bn; £20bn). The Gillard government is determined to push through the law, ideally by the beginning of next year.
Australia's tobacco market is with $10.4 billion in 2009, a small fraction of global revenues. But this is a crucial test.
Professor Gillian Triggs is the dean of Sydney University Law school: "Although the Australian market might be thought to be relatively small, were Philip Morris to lose its branding and intellectual property, this threatens its capacity to market its products in the rest of the world. And there are much bigger markets of course in China, the Middle East, Latin America and many parts of Asia. And they can't afford for this to go under the radar."
One of the arguments that Philip Morris will make is that there's no proof that generic packaging works - but that's because logos and branding have never before been banned. For its part, the Australian government is confident that its public health argument will win the day, even though the matter will not be decided within its jurisdiction.