China manufacturing slows as Beijing reins in growth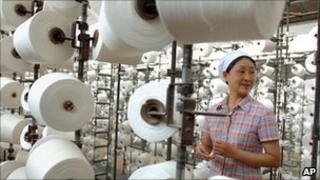 China's manufacturing sector expanded at its slowest pace in 28 months following government policies to prevent the economy from overheating, according to an official survey.
China's purchasing manager's index (PMI) fell to 50.9 in June from 52 in the previous month.
The PMI is a key an indicator of conditions in the sector, which is a big contributor to China's growth.
China is the world's second-largest economy.
Even though the figure remained above the threshold level of 50, indicating expansion in the sector, the drop from the previous month indicates that growth is slowing.
Beijing has been trying to slow down its credit-fuelled growth in an attempt to prevent asset prices from overheating.
Analysts said the government's policies are starting to hurt the manufacturing sector.
"It think the primary reason is monetary tightening and a reduction of credit," said Sitao Xu of the Economist Intelligence Unit in Beijing.
"Both central bank and the government are taking a hawkish stance to prohibit high credit growth."
'Synchronised slowdown'
While internal policies are curbing growth in the sector, analysts said that external factors are also playing a key role.
"The other reason is the synchronised slowdown in developed countries," Mr Sitao said.
The recovery in the US has not been as fast as expected, hence demand from the world's biggest economy has been sluggish, he said.
He added that the debt crisis in European countries had also affected demand for Chinese goods from the region.
However, the overall health of the Chinese economy remained robust, despite the slowdown in manufacturing, he said.
"I don't think it's the end of the world, we are not seeing a hard landing or a recession," he said.
"What the government is trying to do is prevent the economy from overheating."