Greece crisis: German lenders 'join rollover plan'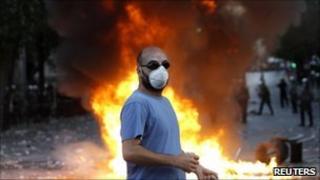 German lenders and insurers have agreed to participate in a plan to continue lending to Greece, according to German finance minister Wolfgang Schaeuble.
He was speaking after a private meeting of the country's main banks.
Mr Schaeuble said German institutions would contribute 3.2bn euros ($4.6bn, £2.9bn) to the plan, details of which have yet to be finalised.
It comes after French banks agreed to relend about half of Greek debts they own coming due by 2014.
"I'm happy that the representatives of the financial sector have said they are ready to participate in a European package for a second aid programme for Greece," said Mr Schaeuble.
He added that he was confident that a solution would be reached by the time of a planned meeting of eurozone finance ministers in Brussels on Sunday, but that further work was needed on the plan over the coming weeks.
Bad banks
The chief executive of Deutsche Bank, Josef Ackermann, commented that the French plan could form a "basis" for a deal.
"We are of the opinion that Greece must be helped... we are ready to do so," he added.
Deutsche, Germany's biggest lender, was expected to contribute less than 1bn euros to the plan, according to reports in Germany.
Commerzbank , Germany's second-biggest lender, is likely to contribute far less than 1bn euros, the reports said.
The French plan is designed to make Greece's debtload more manageable in a way that would not be deemed a formal default.
If the deal is classified as a default by ratings agencies or credit derivatives traders, it could force European banks to recognise billions of euros in losses in Greek debts that they currently hold, putting their own solvency at risk.
German lenders were previously said to have resisted the long 30-year term of the new loans already backed by the French banks.
French banks have lent the Greek government some 15bn euros, according to data from the Bank of International Settlements, while German lenders hold more than 20bn euros of Greek sovereign debt.
However, unlike their French counterparts, the German lending is thought to be already mainly long-term.
The 3.2bn euros in funding to be reoffered to Greece by German creditors covers debts falling due by the end of 2014, Mr Schaeuble said.
Of this total, some 1.2bn euros was held by the "bad banks" - lenders that had failed during the financial crisis and been taken over by the government.
The news comes the same day that Greece's parliament passed a second vote on its austerity programme, which was needed to secure further financial support from other eurozone governments and the International Monetary Fund.
In a statement the IMF welcomed the Greek vote. "This is a welcome and important step and will contribute to restoring fiscal sustainability, safeguarding financial sector stability, and boosting competitiveness to create the conditions for sustained growth and employment," the IMF said.
Athens witnessed protests and riots when the first vote, agreeing the austerity package in principle, was passed on Wednesday.