Lloyds Banking Group to shed 15,000 more jobs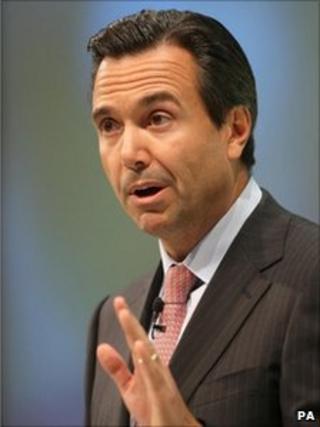 Lloyds has said it will cut another 15,000 jobs, 14% of its workforce.
The move is part of the banking group's strategic review that targets £1.5bn in annual savings by 2014 and aims to reduce its international presence.
The High Street lender has already cut 27,500 jobs since its merger with HBOS in 2009.
However, the bank said it would not close any UK branches, implying that the cuts are likely to fall on middle management and back office functions.
Among the promised changes were "better end-to-end processes and IT platforms, a de-layered management structure and simpler legal structure, [and] centralised support functions".
"This is a huge shake-up," said the BBC's business editor, Robert Peston, with consequences that "will ripple through the British economy".
Among the many changes are plans for the bank to cut the number of suppliers it uses, which will have a knock-on impact on other companies.
Markets took the news well, with Lloyds' share price closing up 9.7% on the London Stock Exchange, making it the biggest climber in the FTSE 100.
'Revitalise Halifax'
The strategic review was launched by the bank's new chief executive, Antonio Horta-Osorio, who left Santander's UK business to run Lloyds on 1 March.
"He wants to do as much of [the job cuts] through redeployment and natural attrition as redundancies, but there are bound to be redundancies," said Robert Peston.
"They want to bring top management closer to branch management - so there's a whole swathe of managers for whom that is incredibly bad news."
The job losses represent 14% of Lloyds Banking Group's total of 104,000 employees.
The cost-cutting programme itself will cost £2.3bn in total, but is expected to free up about £2bn for investments over 2011-14.
Lloyds said it would use the money to "revitalise Halifax" and develop its other UK businesses, which include Bank of Scotland, Cheltenham & Gloucester, Birmingham Midshires and Intelligent Finance.
The lender also reaffirmed its commitment towards pensions, life insurance and investments provider Scottish Widows.
And the new chief executive told the BBC that one of his priorities was to increase the sale of insurance products to Lloyds' 30 million customers.
Much of the savings will come from Lloyds' international operations, with the bank saying it plans to shut up shop in 15 of the 30 countries in which it now offers its services.
The bank also confirmed it expected to identify a buyer later this year for 632 of its branches. Their sale was stipulated by European competition authorities as a condition to its merger with HBOS.
'Box-ticking'
"Our aim is to become the best bank for customers," said Mr Horta-Osorio.
"We will unlock the potential in this franchise over time by creating a simpler, more agile and responsive organisation, and by making substantial investments in better-value products and services for our customers."
The Portuguese banker has already shaken up Lloyds' management since he arrived, with the departure of two board members.
He has also promised to wean the bank off government-backed funding by the end of this year.
The Unite union said the review would cause "deep distress and anxiety".
David Fleming, Unite national officer, said: "This review is merely another box-ticking exercise to give this bank - which has already, since its creation two years ago, cut over 27,000 staff - an excuse to sack more employees."
Despite the job cuts, Mr Horta-Osorio told the BBC that the bank very much identifies its own success with its role in supporting the UK's economic recovery.
"I strongly believe you need strong banks to foster a strong economy," he told Robert Peston. "And a strong economy is also vital to healthy banks."
He was keen to highlight a 2% increase in lending over the last year to small and medium enterprises.
Meanwhile, HSBC said it would be cutting 700 jobs in its UK retail banking arm.
The cuts will be made across the country, with the vast majority in its wealth management division, which provides financial advice.
A spokesman for the bank said it was reshaping the unit ahead of regulatory changes due to come into force at the end of 2012, which will see bank customers being charged for financial advice that is currently provided for free.