Mortgage approvals still subdued, Bank of England says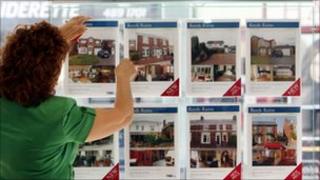 The UK property market is set to remain subdued in the coming months, figures from the Bank of England suggest.
New mortgages approved for house purchase, but not yet lent, rose to 45,940 in May from 45,447 in April.
Despite the slight increase, May's approval figure was lower than the average for the previous six months.
The data suggests that house sales, which have been running at half their pre-2007 levels, will also stay low in the coming months.
Meanwhile, building societies have complained again that National Savings & Investments (NS&I) is being too agressive in trying to attract savers' money.
NS&I recently relaunched its inflation-proofed investment policies.
The Building Societies' Association (BSA) said this had contributed to another outflow of funds from its members in May, of £613m.
Adrian Coles, director general of the BSA, said: "Savings balances at mutuals fell in May, in common with other private sector deposit-takers."
"It seems likely that NS&I's index-linked products attracted much of the money deposited in this period," he said.