US sees bigger role for India as trade partner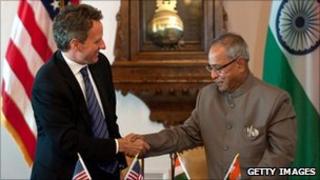 The US wants India to become one of its top 10 trading partners, treasury secretary Timothy Geithner said as the two countries agreed on improving access to each other's markets.
He made the remarks after meeting India's Finance Minister Pranab Mukherjee at the second India-US Economic and Financial Partnership.
India is currently the US' twelfth largest trading partner, with bilateral trade of almost $50bn (£31bn).
US is the world's biggest economy.
"In the United States, we aren't just watching India's rise as an economic power, we support it. We encourage it. And we want to help advance it," Mr Geithner said.
"India's growth is good for us, just as our growth is good for India," he added.
Barriers to growth
However, Mr Geithner said that if trade between the two countries was to rise to the next level, then India needed to open up more sectors of its economy.
US companies have been lobbying to tap into India's lucrative financial and retail sector, but have not been successful so far.
"American companies still face barriers in India in sectors such as banking, insurance, manufacturing, multi-brand retail and infrastructure," Mr Geithner said.
Mr Geithner added that not only were these barriers limiting growth, they were also a hindrance to job creation in both the countries.
However, Mr Mukherjee said that given the political situation in India it was not easy to introduce reforms in key sectors.
"We do not have a simple, single-party majority in legislature and in parliament," he said.
"We shall have to carry other people with us and we are exactly trying to do that," Mr Mukherjee added.
Despite the limitations expressed by the Indian finance minister, Mr Geithner said he was happy with the overall outcome of the bilateral meeting.
"The single most important take away is the commitment of both governments to work hard to expand deepen this relationship," he said.