Strikes: How important is public support?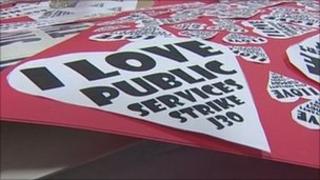 "The public have a very low tolerance for anything that disrupts their hardworking lifestyles," Education Secretary Michael Gove said ahead of Thursday's strike by public sector workers over pensions.
As Mr Gove's words show, the government is already looking at how the general public will react to Thursday's strike by 750,000 teachers and civil servants.
So too will the unions involved, for both sides will be hoping to claim popular support and use it as a bargaining tool as negotiations continue.
Gregor Gall, professor of industrial relations at Hertfordshire University, says the fact this dispute is taking place in the public sector makes having the man on the street onside even more important.
In the private sector, the leverage a business is trying to exert is economic, for instance claiming a loss of profit.
But in the public sector, workers are trying to create political pressure on the government, making public opinion crucial, Prof Gall says.
He adds that so far the unions, who say changes to their pensions will mean they have to "pay more, work longer, get less", have presented a fairly good case.
But the government's language has become more "shrill" in recent days, with Mr Gove backing the idea of parents going in to help keep schools open and Prime Minister David Cameron pleading for workers not to go on strike for the good of the country.
"They're concerned about a big turnout and shutdown, and getting more anxious as the day approaches," Prof Gall says.
'Child sulking'
Gauging the popular mood so far suggests the industrial action is fairly well supported.
In a ComRes poll commissioned by The Independent, 49% of people agreed that the workers have a legitimate reason to strike, while 35% said they did not.
But 50% also said the government should ban public-sector strikes unless there had been a turnout of at least 50% in the ballot for industrial action, a move supported by Mayor of London Boris Johnson. None of the four unions going on strike achieved this turnout.
John Tiplady, from Newcastle, told the BBC: "Does Mr Gove not think that his party's unrelenting spending cuts on vital public services and jobs has done infinite more damage to families struggling across Britain than the strikes?"
But Jane Stenning, a mother-of two from Hook in Hampshire, is against the walkouts: "Strikes don't achieve their goal so to go on strike is like a child sulking and I don't see that by having a tantrum they're going to get the public on side.
"It's very unfair that the government has broken the teachers' contract but everybody in the private sector has had that promise broken already."
Ms Stenning, who runs her own small business supplying pottery materials, adds the longer any industrial action goes on, the harder it will be for her company.
"An autumn of [strikes] will create some huge challenges for my business, which is already under pressure from the current economic environment."
Ben Page, from the pollster Ipsos Mori, agrees that the extent to which the public are inconvenienced is key.
"If it's just one day when the kids aren't at school, it won't make much difference," he says.
"Only if it turned into a really long-term thing with rubbish piling up in the streets, bodies in mortuaries, the London Tube not working, then you would see a much more fiercely fought line over this.
"But at the moment, people have some sympathy."
'Political football'
Nevertheless, Thursday's strike will provide a barometer for how people feel about the issue and whether or not they back the unions' decision to take industrial action, according to Prof Gall.
"If there's a lot of support, it will mean the government's on the defensive and unions are confident of going ahead with further action.
"[Public support] becomes a political football, you use it to score goals against your opponents," he says.
But how do you actually measure popular support?
Prof Gall says the size of the picket lines will be one indicator - if strikers are supported by members of other unions - while anecdotal evidence from voxpops will also be useful.
Even speaking to just 10 people will give you some idea of the situation, he says.
And it could tip the balance when it comes to negotiations.
"The turnout on Thursday will be a necessary criteria to fulfil for unions to be successful, but on its own it's not sufficient. Having public support will take it over the threshold," says Prof Gall.
The reaction to Thursday's strike will also be watched closely by Unison, the biggest public-sector union.
It has said it is not striking because it needed more time to organise a ballot of its 1.3 million members, but last week warned the government not to underestimate the "outrage and anger" of its members.
But after the government said on Tuesday it would enter into separate discussions over the local government pension scheme, Unison said it would delay a strike ballot until after two further meetings in July.
It will hope public opinion remains on the workers' side to give them a strong bargaining tool for those negotiations.
The government, meanwhile, will be hoping for negative headlines come Friday morning that could prompt the unions to make concessions further down the line.