Home repossession fears exaggerated, says Bank governor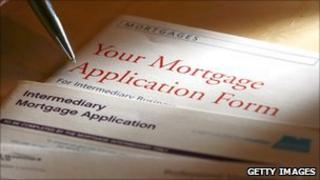 The governor of the Bank of England has said that fears of a wave of home repossessions are overdone as UK interest rates are set to remain low.
Sir Mervyn King said conditions were not right for an interest rate rise.
He said that when there was one, there would be a delay in it feeding through to other borrowing costs.
Earlier, the head of UKAR, which holds mortgages once owned by Northern Rock, said a "tsunami" of homeowners would lose their homes once rates increased.
Delayed impact
Speaking to the Treasury Committee, Sir Mervyn said that the economy was not strong enough to cope with a rate rise at the moment.
"The reason we would raise interest rates would be in the context of a much stronger economy with unemployment falling rather than rising."
He added that consumer borrowing charges such as mortgages, which are generally already several percentage points higher than the base rate, were unlikely to rise as quickly.
"It should also be the case that the interest rates that borrowers face should not rise as fast as the rise in bank rate," he said.
The Bank of England has held its Bank rate at 0.5% - a record low - for more than two years.
Earlier, in an interview with the Guardian newspaper, Richard Banks, the chief executive of UKAR (UK Asset Resolution), said a "scary" number of families faced being repossessed unless lenders prepared them for the impact of higher rates.
He said his organisation was so worried about the situation it had been contacting mortgage holders it thought were likely to default, to try to keep their payments on schedule.
"You can see if you don't do something about it, you can see a tsunami," he said. "If you don't get into the hills you could get drowned by this. If you don't manage this properly it could get very messy."
Some 23,000 of the 750,000 mortgages it owns are at least six months in arrears, he said.
High risk
UKAR, which holds some former Bradford & Bingley and Northern Rock mortgages, is sometimes called the "bad bank" because of the higher proportion of riskier loans it owns.
It carries a higher percentage of loans to people who "self-certified" - did not provide full proof of earnings- and buy-to-let landlords.
But Mr Banks believes it is an industry-wide problem, one caused by over-lenience in the wake of the credit crunch as the then-Labour government pressed the banks not to make the downturn worse by being strict with borrowers.
His warning comes on top of others, including from the Council of Mortgage Lenders earlier this month, which has forecast that repossessions will rise to 40,000 this year from 36,000 in 2010.
Few observers expect UK interest rates to rise in the next few months, but there are warnings that keeping interest rates at this level is "unsustainable".