UK High Street: More retailers hit by consumer squeeze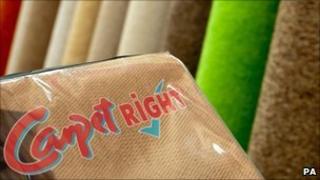 Tough times are continuing for UK retailers with Thorntons set to shut up to 180 stores and Carpetright saying it may close as many as 50 outlets.
Chocolate maker Thorntons said it would shut "a minimum" of 120 shops over the next three years, with the possibility of an extra 60 closures.
Carpetright could close up to 50 shops when their leases run out if it cannot get the rents reduced, it said.
Meanwhile, store chain TJ Hughes is set to go into administration.
If it does, it will join three other retailers who announced over the past week that they had called in administrators in the face of tough trading conditions.
These are fashion retailer Jane Norman; the owner of Moben and Kitchens Direct, Homeform; and furniture firm Habitat.
Rent for the past three months was due last week, and insolvency experts said this had brought a number of High Street names "to their knees", with more set to follow.
"It is likely that the next quarter rent day in September could see a further surge in the number of retailers facing administration as High Street stores struggle to pay the rent against a backdrop of decreasing discretionary spending and low consumer confidence," said Julie Palmer, a partner at insolvency practitioners Begbies Traynor.
Declining household incomes and uncertainty about the economy have hit consumer spending.
This was underlined by figures from the Office for National Statistics which showed that real household disposable incomes had fallen 2.7% in the first quarter of 2011 compared with a year earlier - the biggest fall since 1977.
Speaking to MPs, Bank of England governor Sir Mervyn King said inflation, which erodes the value of household incomes, was "uncomfortably high".
He added that he was "definitely concerned" by "the squeeze on real living standards".
Matthew Stych, research director at Planet Retail, said: "With no sign of a big improvement in job prospects and rising fuel costs putting pressure on transport and logistics, and a possible interest rate rise on the horizon, it is very difficult to see any light at the end of the tunnel."
'Continuing weakness'
Thorntons' store closure announcement followed a strategic review of the business.
It said the outlets to be closed were among the 364 stores directly owned and run by the company.
Thorntons added that it hoped to replace them with franchised stores "in the majority of locations".
It currently has 227 shops run by franchisees.
Chief executive Jonathan Hart said: "Our goal is to refocus the business across all channels, and seek to deliver industry competitive results over the next three to five years.
"Although we see the prospect of weakness in High Street footfall and consumer sentiment continuing, I am confident that this strategy is right."
The company added that it would continue to expand its commercial division, which sells Thornton-branded chocolate via supermarkets and other retailers.
In addition, it aims to continue to grow sales via its website.
Richard Perks, retail analyst at Mintel, said there was an opportunity for Thorntons to turnaround its fortunes, but that it currently "doesn't know where to pitch itself".
'Very challenging'
Analysts said that chains selling homewares and other more expensive items were being particularly hard hit as consumers were forced to cut back.
"Retailers are really struggling to pick up sales on big ticket items," said Matthew Stych from consultants Planet Retail.
"Both DIY and large-scale electronics are being affected by this with people putting off purchasing items such as fridges and waiting to revamp their kitchen or buy a new TV."
Carpetright chairman and chief executive Lord Harris said his group was facing "very challenging trading conditions".
He pointed to "fragile consumer confidence producing a weak floor coverings market, leading to a reduction in sales volumes and profitability".
There is uncertainty over the future of 50 of its 559 stores in the UK and the Irish Republic, whose leases run out over the next three years.
Pre-tax profit for the year to 30 April was £6.6m at the carpet and home flooring group, down 70% from the £22.3m a year earlier.
Its trading was hit not just by reduced consumer spending, but also the continuing weakness in the housing market.
Annual revenues were 6% lower at £486.8m.
The company had already issued two profit warnings earlier this year, and it has closed 27 outlets over the past 12 months.
Shares in Carpetright were 3.6% lower in afternoon trading, while those in Thorntons were down 7.2%.
Trade downturn
Liverpool-based department store chain TJ Hughes said it was planning to appoint an administrator after reporting a downturn in trade.
The Liverpool-based firm employs more than 4,000 people at its 57 stores across England and Wales.
It said it would bring in the administrator over the next 10 days.
The retailer was bought out by its management team in March following the withdrawal of credit insurance for its suppliers.