House prices continue to fall in England and Wales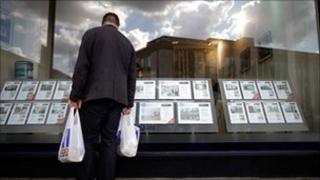 House prices in England and Wales are continuing to fall, according to the Land Registry.
Its latest monthly survey, for May, shows that prices dropped by 0.4% that month, to push them 2.2% lower than a year ago.
The fall in prices means the average property in England and Wales is now worth £161,823.
Only in London have prices risen in the past year, by 2.9%, with the average home in the capital costing £344,819.
"The divergence in price change between London and the rest of the country continues to grow," the Land Registry said.
Prices across England and Wales have now fallen in seven of the past nine months, taking them back to where they were at the end of 2009.