Nike shares rise as profits and revenues jump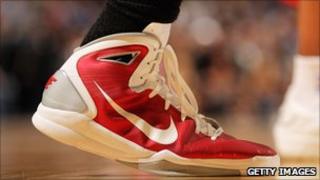 Sportswear group Nike beat analysts' forecasts to post a jump in quarterly profits and revenues after increasing sales in all key markets.
The world's largest athletic shoe company said profits for the three months to end-May rose 13.8% to $594m (£371m) on revenues up 14% to $5.8bn.
Nike's shares rose almost 4% to $84.6 in after-hours trading on Wall Street.
It followed disappointment in the prior three months when Nike's results fell below expectations.
Despite the increase in profits, analysts warned about Nike's margins falling to 44.3% from 47.4%, which the company said was mainly due to higher raw material costs.
Although sales rose in all Nike's markets, the biggest increase came in America and China, which the company has said are key to its growth.
Analysts said the increase in sales was spurred by greater confidence among consumers. During the recession Nike cut costs severely.