Chinese local government's massive debts revealed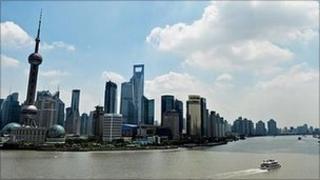 The first ever audit of China's local government debt reveals it at $1.6tn (£1tn, 1.12tn euros).
A comprehensive review of regional spending uncovered the borrowing, equivalent to $1,200 per person.
The Chinese audit office said future borrowing will be restricted.
Although China is one of the world's fastest-growing economies, with a huge currency reserve and trade surplus, there are still concerns that such debts could destabilise its economy.
The results, which were presented to the Chinese parliament, showed local Chinese governments had run up about 10.7 trillion yuan ($1.6tn) of debt by the end of 2010.
The figure tallies with a previous and contraversial estimate produced by China economist Victor Shih of Northwestern University in the US.
Local governments would in future still be allowed to sell bonds to raise funds, but only with approval from the central government in Beijing.
China's economy is now the second biggest in the world - after the US - but it is not without problems.
Inflation is a key concern, which has forced the price of staple foods, such as pork, to record levels.
The government has tried to curb inflation by tightening monetary policy.
Local government debt has long been identified by analysts as another weak spot in China's economy, responsible for a borrowing outbreak that has generated wasteful spending.
About half of this was taken up during the 2008 financial crisis, when the Chinese authorities released a 4tn yuan fiscal stimulus to promote economic growth.
Some of this has been spent on infrastructure projects, such as road and rail, which arguably are vital to sustain orderly economic development., while a lot has gone on property construction.
China's total government debt is 44% of annual economic output, far lower than Germany's 75%, the US at 93% and Japan - one of the world's worst - with 225%.