Fashion chain Jane Norman goes into administration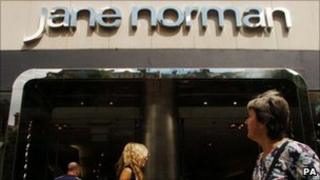 Women's fashion retailer Jane Norman has gone into administration.
The company closed its 89 UK stores over the weekend after it failed to find a buyer for the business.
Administrators have been appointed to the company from accountancy group Zolfo Cooper.
Debenhams and Edinburgh Woollen Mill have been linked with takeover bids for Jane Norman, which employs 1,600 people and whose clothing is aimed at 16 to 25-year-olds.
A statement from Zolfo Cooper said: "Following a period of testing trading conditions, the company has experienced severe cash flow difficulties which resulted in the Board requesting the appointment of the Administrators.
"Discussions continue with relevant parties and further detail will be provided when made available."
Jane Norman has debts of £140m, and has been struggling with depressed sales.
A consortium of 11 banks currently owns 80% of the business, with 20% in the hands of its management.
Founded in 1952, Jane Norman also has 82 UK concessions in department stores including Debenhams branches.
In addition, the company has 90 international operations, mostly concessions, which are a mixture of company-owned and franchised businesses.
It describes its clothing ranges as "sexy and affordable adaptations of catwalk trends".
Sector-wide woes
According to press reports, Zolfo Cooper intends to put Jane Norman into a "pre-pack administration", under which a buyer for the company or its assets has already been lined up in advance, so that the sale can be carried out shortly after the firm has entered formal administration.
The practice has been criticised for leaving creditors unpaid.
Jane Norman is just the latest casualty of reduced spending on the UK High Street.
Last week all but three UK Habitat stores were put into administration, as was home fittings company Homeform, the owner of brands such as Moben, Kitchens Direct and Dolphin.
The most recent official figures showed that UK retail sales fell 1.4% in May.
Clothing retails have also been hit by the rising price of raw materials, such as cotton.