IMF head: What Asia expects from the new MD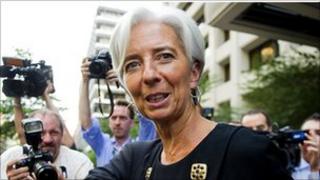 The new managing director of the International Monetary Fund (IMF) will need to hit the ground running.
Christine Lagarde will face the immediate challenge of containing the euro area crisis in the context of elevated risks associated with the current soft patch in the global economy and a failure to achieve a meaningful rebalancing of world aggregate demand.
Rising inflationary pressures in several emerging market economies, most notably in Asia, are also important risk factors, as are volatile capital flows.
No doubt, there will be a certain amount of soul searching as to why no Asian candidates put their names forward for the position, and agreement that things will be "different" next time around.
But now that the selection has been made, the focus will shift to how the region can work with the new managing director to push the Fund's reform agenda forward and address the region's concerns.
Four key areas for attention can be identified.
IMF governance
Recent efforts to reconfigure IMF governance to the economic realities of the 21st century have been moving very slowly and need to be accelerated and broadened.
Asian economies can work with the new managing director and other Fund members to lay out specific plans to expand substantially the "chairs and shares" of the IMF's emerging and developing country members (including from Asia), and increase the representation of their nationals in the IMF's senior management and staff.
There could also be agreement and formalisation of an open, transparent, and merit-based process for selecting the IMF's managing director.
In addition, in order to avoid having to continually play catch up, the rapidly growing Asian economies could push for IMF governance reform to be more forward looking, and based on trends in the global economy as well as backward-looking formulae.
IMF surveillance and lending instruments
Progress is being made on tailoring the instruments of IMF surveillance and lending to an increasingly interconnected and fast moving world, but more needs to be done.
Asia could try to move the IMF away from the current relatively rigid annual surveillance exercise for each country towards more ongoing and focused surveillance, attuned better to the needs of IMF members as well as current and prospective economic conditions.
Asia could also support more strongly the ongoing efforts to modernise the IMF's lending facilities to enable them to better meet the potentially very large liquidity needs that can arise during times of systemic distress, as well as traditional balance of payments problems.
Capital flow management
Although providing considerable benefits, capital flows tend to be volatile and easily reversible, and can create enormous challenges for economic policy makers in emerging market economies.
While welcoming the IMF's recent acceptance that the arsenal of capital flow management tools may need to include capital controls, there is a need to develop best practice guidelines on how such controls and other instruments might best be used and under what circumstances.
In addition, more consideration needs to be given to how the responsibilities for capital flow management will be shared between source and recipient countries.
Fire-fighting and smoke detector roles
Even though it received a lot of praise for helping put out fires during the global crisis, the IMF has been much less successful in crisis avoidance (the smoke detector role).
Asian economies can work closely the Fund to help strengthen the IMF's ability to identify emerging problems and vulnerabilities at an early stage, and encourage members to take appropriate action.
Asia could also lend its support to ongoing attempts to strengthen the IMF's multilateral surveillance including through a greater willingness of the systemically important countries in the region to be subject to peer review.
Given the growing role of spillover effects in an increasingly interconnected world, all Fund members have a strong interest in a strengthened IMF surveillance function at the multilateral level.
Beyond commitments in these areas, however, countries in Asia may also seek some more specific understanding from the new managing director in two areas.
First, countries in the region may want a clear commitment that the ongoing problems in the euro area will not crowd out the IMF's work programme on emerging market issues and challenges, including in Asia.
Second, they may wish to see senior IMF management broaden its interactions with the region through more regular high-level attendance at the meetings of the various regional bodies and groupings that have emerged in recent years.
In particular, there may be interest in the IMF strengthening its dialogue with regional grouping such as Asean, Asean + 3 and the East Asia Summit, and with the newly established Asean+3 Macroeconomic Research Office (Amro).
Not only would this usefully complement the IMF's bilateral interactions within the region, it would also be an endorsement of Asia's growing aspirations to deepen regional economic cooperation and integration.
Charles Adams worked at the IMF for 25 years. His last posting was deputy director at the Office for Asia and the Pacific in Tokyo.
The opinions expressed are those of the author and are not held by the BBC unless specifically stated. The material is for general information only and does not constitute investment, tax, legal or other form of advice. You should not rely on this information to make (or refrain from making) any decisions. Links to external sites are for information only and do not constitute endorsement. Always obtain independent, professional advice for your own particular situation.