Cheque guarantee cards check out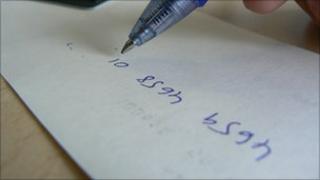 It is the final weekend for the cheque card. Forty-two years after they were first introduced, they finally become defunct on Thursday, 30 June.
No longer will you have to ask a tradesman to write your card number on the back of a cheque.
No longer will there be a guarantee from the bank that the payment will be honoured.
Many people are unhappy about the change, but the banks say such payments have almost died out anyway.
They point out that the number of people using cheque cards has been falling for years.
"In the last five years, the numbers have dropped off by 65%," says Jemma Smith, of UK Payments.
Who uses them?
Cheques themselves will continue for at least another seven years, but without the backing of a guarantee.
Last year, at least 95 million were written with a guarantee number on the back, although that was only about 7% of the total.
Many people still rely on them for paying tradesmen, such as plumbers, carpenters, window-cleaners and electricians.
For many of those tradesmen, the guarantee card is important for preventing fraud and making sure that they get paid.
"Many people will write out a cheque, whether or not they've got money in the bank," says Charlie Mullins of Pimlico Plumbers.
As a result, he fears his business will lose out when the guarantee system comes to an end.
"No cheque card means cheques may not clear. It's going to be absolute chaos to do away with it," he says.
Mr Mullins also worries that many people will switch to using cash to make payments instead, which might encourage people to try and avoid paying VAT.
How do they work?
Most cards have a limit of either £100 or £50 to their guarantee.
If the sum written on the cheque is less than that, the bank guarantees to honour that cheque, even if the customer does not have sufficient money in his or her account.
If the sum is greater than the guarantee, the bank offers no protection at all, even for the guaranteed amount.
There are other restrictions too.
The person paying has to hand over the cheque in person. In other words, you cannot put a cheque in the post and expect the guarantee to work.
The person receiving it is the one who has to write the number on the back.
Many cards now only have a debit function, but those that are also cheque guarantee cards have a hologram of William Shakespeare on the back.
Still useful
New research published by Age UK confirms that many elderly people are still particularly reliant on cheques.
Of those aged over 65, 31% use cheques to pay for services in the home, an area where they are most likely to be asked for a cheque guarantee card.
However, guaranteeing payments has also cost the banks a fortune in fraud.
In 2008, the High Street banks paid out £43m as a result of people using guaranteed cheques, when they didn't actually have the money in the bank.
That amount is increasing.
"This is about preventing confusion and tackling a growing fraud risk," says Ms Smith.
The alternatives
Those people who need to use cheques are being advised to continue doing so.
They will not disappear until 2018 at the earliest and that date may be changed in 2016.
That means the banks have five years to come up with alternative payment methods.
In the meantime, consumers can consider using debit or credit cards, paying on the internet, via mobile phones or using new contactless cards.
In any case, cheques are falling in popularity.
Whether that is because fewer places are accepting them, or because consumers prefer to use other payment methods, is hard to determine.
The British Retail Consortium (BRC) insists it is the latter.
They say that only one in 1,000 retail transactions now involves a cheque.
Trains
This week, Britain's train operators will join the growing list of retailers who no longer accept them.
That is a direct result of the end of the cheque guarantee card and the resultant worry about fraud.
"In the case of train companies, it's passengers and taxpayers that would pick up the bill," said a spokesman.
So from Thursday, train passengers can say goodbye to their chequebooks.
And we all say adieu to the bard on the back of our cheque guarantee cards.
But in his case, parting may be more sweet sorrow than real regret.