Chinese Premier Wen Jiabao in UK for trade summit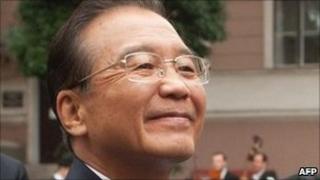 Chinese Premier Wen Jiabao has arrived in the UK for the UK-China Strategic Summit.
Mr Wen will visit the MG car plant at Longbridge, near Birmingham, on Sunday. The plant used to make MG Rover cars, but is now owned by China's Shanghai Automotive Industry Corporation.
The first new MG for 16 years rolled off the production line in Longbridge earlier this year.
Mr Wen will also meet UK Prime Minister David Cameron on day one of the visit.
The Chinese delegation landed at about 2000 BST.
A Foreign Office spokeswoman said: "They have arrived. They flew into Birmingham where they were met by [Trade Minister] Stephen Green and Sebastian Wood, our ambassador to Beijing."
No engagements were planned for Saturday.
The summit is an annual meeting between the two countries. The last one took place in Beijing in November last year.
The aim of the summit is to strengthen bilateral relations between the two countries.
With China having overtaken Japan as the world's second largest economy, many European companies are looking for investment, while Chinese acquisitions in Europe have also been increasing.
Earlier this month, Chinese PC maker Lenovo agreed to buy German electronics retailer Medion in a bid to boost its market share in Europe.
A lot of luxury goods companies have also been focusing their attention on China, as the country now has a large, growing middle class with money to spend.