Italy bank shares dive on credit rating alert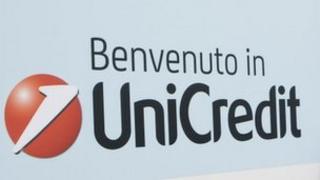 Shares in leading Italian banks fell sharply after the credit ratings agency Moody's said it may downgrade their status.
Moody's report, published late on Thursday, put 16 Italian banks and two government institutions on review for a possible mark-down.
Shares in the country's biggest bank, Unicredit, lost 5.5%.
Intesa Sanpaolo, Italy's second-largest bank, and Monte Paschi also dropped. Trading was suspended in some banks.
Other factors weighing on bank shares included fears that Italian banks could be forced to raise more capital as a result of imminent stress tests.
Credit ratings help investors to determine the strength of an institution or company.
They affect the rate of interest a borrowing organisation must pay. The weaker the credit rating, the higher the cost of borrowing.
Moody's put Italy's public debt on review for possible downgrade amid concerns about low growth and high public debt, which at 120% of gross domestic product (GDP) is one of the highest in Europe.
Greece's debt is 150% of GDP.