Mario Draghi appointed as head of European Central Bank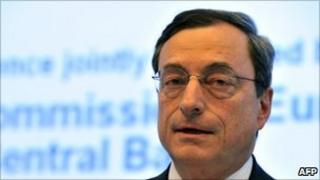 EU leaders have voted for Italy's Mario Draghi to follow Jean-Claude Trichet as the head of the European Central Bank.
The European Parliament and the ECB board had already given their approval to Mr Draghi's appointment.
Confirmation came after fellow Italian Lorenzo Bini Smaghi reportedly agreed to step down as an executive board member of the ECB.
If he had not agreed to go, France would have been left with no representation on the six-person board.
The French had previously implied they would only support Draghi if a French person took Mr Bini Smaghi's spot.
The ECB has played a central role during the debt crisis within the eurozone.
It has supported a multi-billion euro bond-buying programme that has helped to support struggling countries within the 17-country area.
Mr Draghi, who is 63, is a former economics professor who has taught at Harvard.
He has also worked at the World Bank as well as with Goldman Sachs.
He is currently the head of the Financial Stability Board, which is engaged in overhauling the banking system.
He became the favourite for the job after the previous front runner, Germany's Axel Weber, said in February he was leaving as the Bundesbank chief and would not seek the ECB job.
Mr Trichet's eight-year term as the president of the ECB expires at the end of October.