Coventry at work: Business takes off but public cuts bite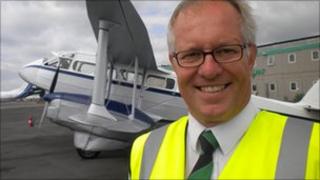 It's not often you get the chance to have a bacon buttie on a 1950s plane that's had a starring role in a James Bond film. The aircraft in question is a DC6.
It doesn't fly anymore and it has recently been turned into a smart diner. And business is really taking off.
It sits on the tarmac at Coventry airport, along with a host of other vintage planes. And it seems that there's money to be made from the enduring love affair with air travel from a bygone era.
Air Atlantique, the company behind this so-called living museum, has recently taken on 15 full- and part-time staff, doubling its head count.
For the boss, Trevor Bailey, it's a real leap of faith.
"We made the capital investment over the winter and now we've got to generate the sales to support that. We felt that now was as good a time as any.
"If we can make this work in the depths of a consumer recession then that will stand us well for the future."
This isn't the only company that's been creating new jobs these last three months.
Air Atlantique is one of more than 60 companies we're keeping tabs on as we try to follow the fortunes of Coventry as the public sector spending cuts start to bite.
And here's the interesting thing.
Half of our companies have taken on new staff. All in all, this group alone has created 424 new posts.
The biggest recruitment drive came from Severn Trent Water, one of the city's biggest employers.
It's taken on more than a hundred people to staff a new call centre, which opens next month.
Jaguar Land Rover has also hired 153 new workers as part of a £5bn investment programme over the coming years.
Lots of our smaller companies, like Air Atlantique, have also been taking on people, creating 171 new jobs between them from Automotive Trim Developments and Sprue Safety Products, to Mike de Courcey Travel and The Camping and Caravanning Club.
The other two headlines are that at least 20 out of the total number of new recruits were from the public sector.
And a handful of companies did shed staff, with 24 people let go.
Different story
So what about our group of public sector workers?
We're following 40 different people from all ages, ranks and sectors.
In the last three months, 14 of them told us their employment had changed:
Four people are in the process of taking voluntary redundancy
Four workers have taken up new jobs within their organisations
One person has left to join the voluntary sector
One has moved to the private sector
And there are real mixed views about how confident people feel about their future.
Paul Odera is really feeling the most pressure right now. He used to run the Friends Programme, a volunteer-based community programme which relied on a combination of council and specific grant funding.
The scheme closed at the end of March, a victim of the spending cuts.
Coventry City Council has lost £19m worth of grant funding for this financial year. And tough choices have had to be made on where the money should go.
For Paul, it has resulted in a 90% drop in income, as he has gone from full-time employment to ten hours a week as a community worker.
"It's very difficult at the moment. I am the sole breadwinner in my family. My wife is a full time student finishing her PhD. I have a little girl and we're expecting another baby in September, " he told me.
Paul is used to helping others in need. Now he's vulnerable too, and desperately needs more work.
"It's not looking pretty out there. Many organisations are still slimming down so I just hope that things are going to get better soon."