EU tells crisis-hit Greeks to unite for new bail-out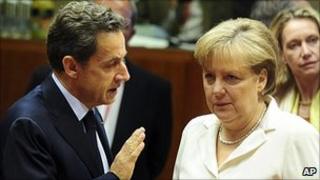 EU leaders have urged all Greek politicians to support new spending cuts and tax hikes, saying there is no alternative if debt-laden Athens is to qualify for a second massive bail-out.
The second rescue is being negotiated in Brussels. It is expected to be about 120bn euros (£107bn; $171bn).
"There will be a new programme for Greece, on which the Greek parliament will have to vote next week," said Germany's Chancellor Angela Merkel.
The UK says it will not contribute.
EU leaders held a second day of summit talks in Brussels on Friday dominated by the Greek debt crisis, which threatens the stability of the 17-nation eurozone.
"In the case of Britain I sought assurances that Britain wouldn't be pulled into a eurozone package for Greece, and I've received those assurances," UK Prime Minister David Cameron said.
Ms Merkel reiterated: "We will do everything to stabilise the euro."
She spoke of the Greek opposition needing to "fulfil its historic responsibilities".
Separately, the leaders agreed that Croatia should join the EU. The target for Croatia's accession is July 2013. "There are no reservations, as we had with Bulgaria and Romania," Ms Merkel said.
EU pressure on Greece
The BBC's Matthew Price in Brussels says Europe's exasperation with Greece's economic woes is all too clear.
In their summit conclusions the EU leaders called on "all political parties in Greece to support the programme's main objectives", saying "national unity is a prerequisite for success".
Our correspondent says it was a direct challenge to the Greek opposition, which has threatened to reject the budget cuts when they are put to parliament next week.
For weeks Athens has been gripped by huge street protests and strikes by Greeks opposed to the tough bail-out conditions. Many of them think Greece is being sacrificed to save the euro.
Greek Prime Minister George Papandreou said his Pasok (Socialist) government was committed to pushing the austerity plans through parliament.
The government is proposing additional spending cuts worth 28bn euros over five years.
If these are passed then Greece will get its next 12bn-euro instalment from the current 110bn euro bail-out package from the EU and International Monetary Fund.
Without this money Greece will default on its next loan payments due in mid-July.
However, many economists think it will be difficult for Greece to avoid default at some time in the future.
'No Plan B'
The summit conclusions said adoption by Greece of the additional austerity package would enable the EU to provide fresh funding. It is considered essential to get the Greek budget back on a sustainable path.
The eurozone is planning a mix of official and private funding for Greece. Private sector lenders will be asked to voluntarily extend - "roll over" - existing loans to Greece, so that Athens does not go into default by having to pay off its debts on schedule.
The voluntary roll-over plan is controversial, however, because it means commercial lenders taking on a bigger burden of risk, as Greek sovereign debt has been given "junk" status by rating agencies.
European Council President Herman Van Rompuy said Brussels was also moving to make it easier for Greece to access EU development funds to help boost its economy.
The EU Commission and member states are preparing a "comprehensive programme of technical assistance" for Greece.
The summit conclusions say the EU is working to refocus EU funding for Greece to stimulate competitiveness and job creation.
Earlier, Luxembourg Prime Minister Jean-Claude Juncker urged Athens to meet its commitments under the bail-out programme.
"All conditions must be met," said Mr Juncker, who also chairs the group of 17 eurozone finance ministers. "You can't let anyone believe there is a Plan B. If Greece does what it has to do, we will do what we have to do."