Tesco Bank offers refunds pledge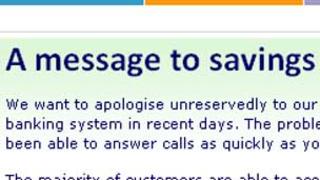 Tesco Bank, which has suffered technical problems with online accounts, says it will refund anyone who has incurred costs as a result.
The bank, which said its website was now "fully operational", will deal with claims on a case-by-case basis.
It said that it would refund customers who could prove they had lost out financially as a result of the fault.
Problems originally surfaced after the bank transferred savings and loans products in-house at the weekend.
Customers' frustrations were increased when many found they could not get through on the telephone to the busy customer service call centre.
Waiting times
A spokesman for Tesco Bank said traffic to the website was high as people checked their accounts. An apology is being carried on the website.
"Our savings system is fully operational and we are seeing higher than expected levels of customers using the site and accessing their accounts," the spokesman said.
"We are experiencing high call volumes at our call centre and have deployed additional staff to answer customer calls and are seeing reductions in waiting time. We are sorry for any inconvenience to our customers."
The service, which operates in stores, online and by telephone, has about 850,000 savings accounts.
Advice on what customers should do has been updated on the website. This includes specific tips for those who use the Internet Explorer 9 web browser, which was launched earlier this year.
Tesco believes that this has a compatibility problem with its system, which can be very easily fixed if customers follow some instructions to reset their browsers.
Some customers are being sent a temporary new Pin code to access their accounts.