Greece bail-out agreement leaves European markets wary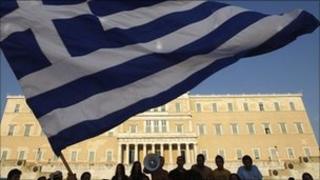 Europe's stock markets gave a cautious reaction to Thursday's agreement by EU leaders giving Greece another 120bn euros ($170bn; £105bn) of support.
The money will come from the 17 eurozone countries and the International Monetary Fund (IMF).
There will be contributions from other lenders and fund-raising and cuts within Greece.
After initial gains, London's FTSE 100 finished just 0.4% higher, while French and German markets both fell slightly.
Paris's Cac 40 dipped 0.1% and Frankfurt's Dax fell 0.4%.
The euro also fell against the US dollar, slipping 0.4% to $1.4196.
Countries from the 10 countries within the European Union but outside the single currency area will not contribute directly, something Germany had initially pressed for.
The original 110bn-euro ($156bn; £98bn) Greek rescue package is also a combination of funds from fellow eurozone nations and the IMF.
The European money currently being given to Greece comes from the European Financial Stability Facility, to which only the 17 eurozone nations contribute.
The UK contributes to the wider European Financial Stabilisation Mechanism, which covers the whole of the EU.
The Greek parliament will vote next week on the government's latest round of spending cuts and tax rises.
If the vote goes through, then Greece will get the next 12bn-euro instalment of the current 110bn euros of eurozone and IMF funds.
Greece needs this money by 15 July or else it will default on its loan payments.