Malaysia's guidebook to prosperity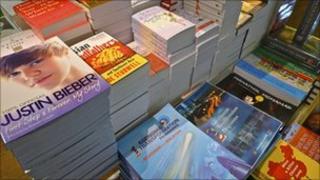 Somewhere between Justin Bieber and Dan Brown lies the path to prosperity and economic development.
Well it does in Kuala Lumpur airport, where for about $10 (£6) you can pick up your copy of the Malaysian government's plans for turning the country into a fully-fledged developed country by 2020.
It's a 250-page document outlining how it intends to boost the average income per head from the current level of $7,000 (£4,370) to the World Bank's threshold for rich nations (by 2020 that's expected to be $17,000 or £10,600).
To achieve that goal, Malaysia's mid-sized economy would need to grow at a rate of 8% a year, every year for a decade.
"China and India have shown that exceptionally large economies can enjoy those rates of economic growth," points out Professor Danny Quah, who helped advise the Malaysian government on its economic path.
Malaysia may be declaring its ambitions very publicly, but you can be sure neighbouring nations in South East Asia are harbouring similar ambitions.
'Growing confidence'
"The feeling that all of us have when we travel west to east or east to west is that the Asian economies are showing a growth vitality and a growing confidence," says Professor Quah.
The IMF's latest World Economic Outlook includes a wealth of statistics to demonstrate this vitality - among the more interesting are figures for trade and savings.
Current account balances present a glimpse into global flows of cash - they hint at who is producing stuff the world wants, and who is buying.
This year rich nations will show a deficit of some $125bn (£78bn). In comparison Asia - excluding Japan - will be $349bn (£218bn) in the black.
But the region is much more than just the world's factory. Global businesses from the airline industry to car makers are gearing up for strong growth in Asia. And they've good reason to think they can turn these billions of producers into consumers.
Standing on a terrace overlooking Kuala Lumpur, Dato Dr Mahani Zainal Abidin, chief executive of Malaysia's Institute of Strategic and International Studies, watches the nearby construction of another tower block.
"We are growing because we are recycling our savings. Malaysia - like many Asian countries - saves quite a lot. We save about 35% of our annual gross domestic product. We used to put this into US treasury bonds, now we're using it for our own growth."
National savings across the developing Asian economies average 45%. Among rich nations the figure is just under 18%. These high rates across Asia suggest there is plenty of room to raise private consumption and company spending.
"Asia is naturally a big saver, but now we're deciding to spend it on ourselves," says Dr Mahani with a smile. "After the financial crisis of 2008 we don't want to depend just on exports but also on domestic demand."
Massive market
Back at Kuala Lumpur's airport, one of Asia's most prominent businessmen is enjoy the benefits of rising incomes across the region. Tony Fernandes is boss of the budget airline Air Asia.
"It's important for people to understand - particularly those in the western world - that while they may think of Asia as China, India, Japan and Korea, there's a massive market in South East Asia. Six hundred million people are here, double the size of Europe or America."
Mr Fernandes is keeping tight lipped about the decision to place a $18bn order for 200 new planes at the Paris Air Show, but is happy to talk about how his industry demonstrates the region's rapid development.
"When I was a kid we never went on holidays - now everyone here has a holiday. School holidays are our peak period. Leisure time is, in my opinion, a measure of how societies develop."
Money and power, one follows from the other. Governments, companies and individuals across Asia are very aware that as their economies grow, so to does their political capital on the global stage. But Mr Fernandes is keen to stress that the west should not fear the rise of the east.
"People who have previously been very powerful don't want to lose power, and suddenly there's a new power coming in China. But I think a world that is more equally distributed is a better world."
Within Malaysia's guidebook to economic prosperity, there's a chapter entitled "Challenges to realising Vision 2020". It highlights key problems such as the need to cut government spending, spread the wealth more evenly and to fight corruption.
There's another, far less serious problem that comes with a rapid growth in domestic demand - a troublesome issue which the book omits, but which Dr Mahani laments with a wry smile.
"People want more houses, they want to upgrade their houses. But now it's very difficult to get anyone to build cabinets in your homes because they are in such demand!"