China is winning its price growth war, premier Wen says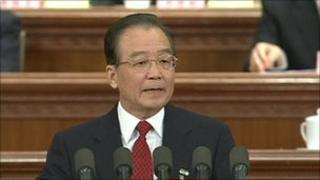 Chinese premier Wen Jiabao has said that China can control inflation and maintain its robust growth.
Writing in the Financial Times newspaper, Mr Wen said "price rises will be firmly under control this year".
He said while the world is still recovering from the global financial crisis, new challenges have emerged.
Mr Wen said countries must 'co-operate closely' to deal with those risks.
The comments come at a time of growing concern over China's high inflation rate.
There are fears that the high prices may derail domestic and global growth, and could spark civil unrest.
Mr Wen tried to allay those fears.
"There is concern as to whether China can rein in inflation and sustain its rapid development. My answer is an emphatic yes," he wrote in the newspaper.
'Controllable range'
In May, inflation in China hit its highest level for 34 months, mainly driven by gains in food costs.
However, Mr Wen insisted that the steps China has taken this year to bring prices down have worked.
China's central bank has raised interest rates four times since October last year.
"The overall price level is within a controllable range and is expected to drop steadily," Mr Wen said.
Mr Wen, who will be in Europe this week, said that although the global economy is recovering, many uncertainties remain.
He promised that China would work with other countries with common responsibilities.
"We should make a concerted effort to strengthen the co-ordination of macroeconomic policies, fight protectionism, improve the international monetary system and tackle climate change."