Online shoppers to receive more help from new EU rules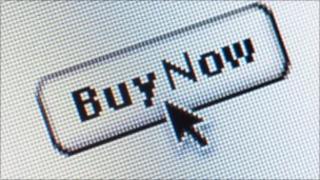 New rules that will give European shoppers more rights when returning goods or paying by card have been approved by MEPs.
Many online buyers will have longer to send back items they decide they do not want, under the rules agreed by the EU.
However, governments will have two years to implement the changes after an expected rubber-stamping next month.
The new rules are intended to help consumers looking to grab bargains from overseas via the internet.
Many of the current consumer rules operating in EU countries pre-date the widespread use of the internet by shoppers.
This left some consumers poorly protected and reticent to buy from abroad, Euro-MPs said.
Cooling-off period
The key elements in the new rules, which could still be subject to changes negotiated by governments, include:
A 14-calendar-day cooling-off period for online purchases. In many countries, such as the UK, shoppers have seven working days to return items bought on the internet that they do not want to keep
Ensuring traders pass on only the actual cost of charges to people paying by credit or debit card, rather than any surcharge
An end to customer-service phonelines being charged at a premium rate, although it remains unclear whether technical-support services will be able to do so
However, there will be a loosening of the rules on how much information is given to consumers buying on the doorstep.
"We wanted to regulate mainly off-premises and distance contracts, such as online trading, as this is where the most cross-border sales take place," said EU Parliament chief negotiator Andreas Schwab.
"We have reached a well-balanced deal which meets both calls from consumers and business interests."
'National rules overruled'
The rules have been given a guarded welcome by consumer groups, which had expressed concerns that the original proposals were too business-friendly.
"When first presented, this law was entirely geared to reducing obstacles for businesses and would have deprived European consumers from many precious national rights," said Monique Goyens, director general of The European Consumers' Organisation.
"This law is a tough compromise and we regret that some national rules will be overruled, but on the whole there will be progress for consumers.
"Consumers will benefit from more information and transparency, in particular when buying online."
Richard Lloyd, executive director of the UK consumers' association Which?, said: "Work to improve consumer rights must not stop with this directive.
"We would now like to see an EU-wide dispute resolution service put in place to protect individuals making cross-border purchases, as well as a mechanism to enable collective redress."