Irish economy returns to growth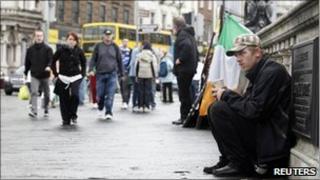 The Irish economy grew by 1.3% in the first three months of the year, official figures have shown, following a 1.4% contraction at the end of 2010.
The Irish Republic's statistics office said the return to GDP growth was partly due to net exports, which were 20.6% higher than a year earlier.
But it said domestic demand was still weak, down by 3.1%.
The construction sector again showed large falls, contracting by 19% compared with the start of 2010.
The agricultural sector was the only one to see an increase in output.
Figures for Irish gross national product, which excludes output from foreign multinationals based in the Republic, were still in negative territory, showing a 4.3% decline.
'Positive signs'
The figures were welcomed by Finance Minister Michael Noonan, who described them as "very encouraging".
"We always said that the initial growth would be export-led and that's happening now," he added.
The Irish Business and Employers Confederation (Ibec) said there were "many positives" in the data and hailed the country's export performance as "incredibly strong", but called on the government to give households "clarity" on the economy.
"In particular, it must clearly spell out as early as possible the likely impact of the budgetary adjustments on household finances," said Ibec chief economist Fergal O'Brien.
"If Irish consumers start spending again, a solid period of economic growth could quickly emerge."