Firefighters warn against higher pension contributions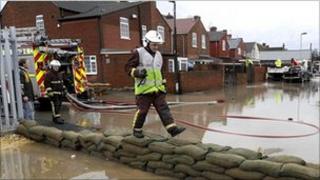 More than a quarter of firefighters may leave their pension scheme if their pension contributions are forced up, their union claims.
A survey of nearly 8,000 members of the Fire Brigades Union (FBU) suggests that 27% are considering leaving if contributions rise.
Currently most staff pay 11% of their salaries, but that may rise to 14% under government plans.
The FBU said this would undermine the scheme's ability to pay its pensioners.
"A sharp hike in already high contributions and the other changes could be the tipping point which will see an exodus from the main pension scheme," said the FBU's general secretary Matt Wrack.
"The perverse outcome of the dash for savings to help pay for the budget deficit will be large losses. The viability of the scheme will be badly undermined, costing even more in the long term," he added.
Firefighters' pensions
Most firefighters are in the Firefighters' Pension Scheme (FPS), in which employees pay 11% of salaries and employers pay about 24.4%.
This closed to new members in 2006.
In the New Firefighters' Pension Scheme (NFPS), staff, still a minority of the workforce, pay 8.5% of their salaries with the employers paying about 12%.
But in both sections, pensions are paid entirely from contributions because, in common with most public sector schemes, there is no underlying investment fund.
The survey for the FBU was based on a large but self-selecting sample of members who responded to an online questionnaire after being alerted by notices on fire station noticeboards or on the union's website.
The union calculated that if 27% of staff opted out of their pension scheme, it would lose contributions of almost £95m a year.
Big changes ahead
An average rise of three percentage points in employee contributions is a key, and controversial, feature of the government's plans to cut the long term cost of public sector pension schemes.
The proposal was first suggested by the former Labour minister Lord Hutton last year, when he presented his first independent report on how the funding of the schemes should be changed.
He subsequently also suggested moving staff from final-salary schemes to less generous career average arrangements, and raising pension ages from 60 to 65 and beyond.
These ideas have been adopted by the government, but it is the prospect of a big jump in contributions which is currently angered union members the most.
Unions with members in the local government pension scheme have already claimed that a large minority of staff cannot afford to pay more and would also leave their scheme, a funded one, if their contribution rates went up.
Concern over this issue was expressed by Lord Hutton himself on Thursday, when he said the government should be wary of pushing contribution rates so high that they provoked an exodus of members.
Meanwhile, strikes by several hundred thousand civil servants and teachers against the government's planned pension changes are scheduled for 30 June.
Earlier this week, the head of the Unison trade union, Dave Prentis, called on his members to vote for a campaign of strikes "without precedent" over the same issue.