Aviation industry becoming cost-conscious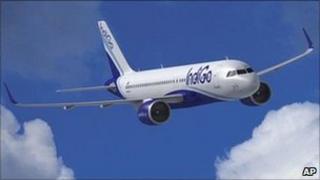 The fast-flowing flood of orders for hundreds of Airbus A320neos announced at the Paris air show is a sign of the times.
Not only does it illustrate the rapid rise of Asian airlines, but it also indicates how the aviation industry is increasingly cost-conscious, in an environment of rising oil prices.
Though slightly modified, with so-called "sharklet" wing tips, the 150-seat passenger jet itself is not new.
But its engines are - and they are much better than anything else currently on offer.
Better, that is, in terms of fuel economy, which makes a massive difference for airlines faced with soaring jet fuel prices.
The A320neo is 15% more fuel efficient than the conventional A320, Airbus insists, which should save airlines almost $1m (£625,000) per year per plane, while simultaneously reducing carbon dioxide emissions from each aircraft by 3,600 tonnes per year.
The engines - one that is supplied by Pratt & Whitney, another by CFM International, a joint venture between Snecma (Safran Group) and GE - are also 30% cheaper to maintain than current models, largely because they have fewer parts.
And they are much less noisy to boot, Pratt & Whitney's next generation product head Bob Saia told BBC News.
"The PurePower PW1100G is a long-life, very durable design," he said.
It is also very profitable, adds GE Aviation's Laurent Rouaud.
"We can be eco-driven and make good money from it," he said.
Tough dilemma
The A320neo was launched in December last year, following months of speculation about whether Airbus and Boeing would replace their A320 and 737 workhorses - or whether they would simply fit new engines.
It might sound like easy choices, but that is far from the case.
Re-engining an aircraft is a billion-dollar exercise that is both time-consuming, risky and technically complex. Replacing an aircraft altogether is an even bigger challenge.
With Airbus having shown its hand, there is enormous pressure on Boeing to make a decision too.
It is a tough dilemma that is made trickier by the ageing 737's stance, which makes it difficult to fit larger, more fuel-efficient engines under its low-slung wings. A new undercarriage could provide an answer, but that too would be complicated and costly.
For now, Boeing is sticking with its popular 737, insisting that its overall operating costs are lower even than the A320neo.
But it is only a matter of time before the US plane maker will announce a replacement or a re-engine choice.
"We will do one or the other," Beverley Wyse, general manager of Boeing's 737 programme, told BBC News.
This year's Paris Air Show takes place at Le Bourget exhibition centre on the outskirts of Paris from 20-26 June.