Prada shares rise slightly on Hong Kong debut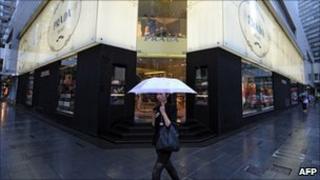 Shares in fashion house Prada saw modest gains on their debut on the Hong Kong stock exchange.
In morning trade, Prada shares were up 0.13% at 39.55 Hong Kong dollars from their initial public offering (IPO) price of HK$39.50.
The company raised $2.1bn (£1.3bn) in the IPO but the shares were priced at the lower end of a target range.
Prada is the first Italian firm to list in Hong Kong as it seeks to tap China's appetite for luxury goods.
Prada's early gains bucked a recent poor run for Hong Kong stock market debuts.
Luggage firm Samsonite fell as much as 11% on its trading debut in Hong Kong last week as global stock markets came under pressure.
Analysts expected Prada to drop about 3%, but a rebound on Hong Kong's Hang Seng Index had helped support the shares.
"It's quite lucky. It has been supported by the good market sentiment today," said Peter Lai, a director at DBS Vickers Securities.
Prada's chief executive Patrizio Bertelli said the company was pleased by the response from international investors to the IPO.
"In the next few years the Prada Group will continue developing its retail network worldwide, strengthening its presence in China, where we expect the luxury market to develop strongly," he said.
Test
Prada's listing is viewed as a key test for the Hong Kong stock exchange, which is hoping to attract more foreign brands and cement its position as the world's biggest IPO market.
Luxury goods brands Burberry and Coach have expressed interest in listing shares in the city, and Manchester United's are reportedly watching Prada's flotation carefully.
They believe selling shares in Hong Kong will raise their profile among China's increasingly rich consumers as well as raise funds for expansion.
Over the next decade, China is expected to become the world's largest market for luxury goods, worth more than $100bn.
Last year, French skincare company L'Occitane became the first firm from Western Europe to list here.
Rocky road
Prada has had a rocky road to market.
This is the fifth time the company has tried to pull off a stock market listing.
One previous attempt faltered during the downturn following the 11 September terrorist attacks in the US in 2001. Prada revived its plans in 2007, but they were put on hold by the market turmoil triggered by the credit crunch.
Prada said it sold 423.3 million shares at HK$39.50 each - the lower end of the proposed HK$36.50 - HK$48 range.
The company sold around 5% of the shares to Hong Kong individual investors, around half the proportion they are usually allocated.
Local investors, who normally play a big role in IPOs, have been deterred from investing in Prada because of the possibility they may have to pay Italian taxes.
The company trades under the stock code 1913 - the year the company was founded.