Currys owner Dixons hit by large one-off costs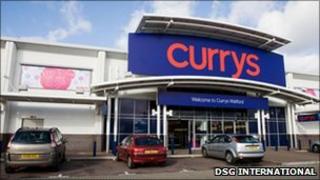 Electrical goods firm Dixons Retail has announced a pre-tax loss of £224.1m for the year to April, after taking into account some large exceptional items.
It took a £309.4m impairment charge after closing operations in Spain and writing down the value of its Greek arm and its online business Pixmania.
Excluding the charge, the firm, which owns Currys and PC World, made profits of £85.3m, in line with expectations.
On Wednesday, Kesa, which owns rival Comet, announced a £9m annual loss.
'Ups and downs'
Dixons Retail said group like-for-like sales were down 2% on the year.
Despite the impairment charge taken, Dixons chief executive John Browett told the BBC he did not regret the company's operations in southern Europe.
"We make more than half our profit and sales outside the UK," he said.
"Like any portfolio business, you are going to have some ups and downs."
In the UK, underlying profit rose slightly to £71.3m from £71.1m a year ago.
The group is currently undergoing a store transformation programme, which includes some megastores that bring the PC World and Currys brands together under one roof.
Mr Browett said there were now more than 30 such stores open in the UK, which were proving "very very popular with customers".