Federal Reserve cuts its US economic growth forecast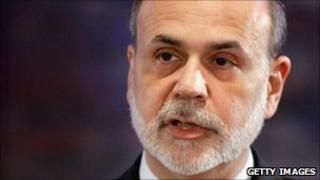 The Federal Reserve has cut its growth forecast for the US economy in the face of the impact of higher energy prices.
It now estimates that the US economy will expand between 2.7% and 2.9% this year, down from its April forecast of 3.1% to 3.3%.
The US central bank also warned that unemployment would remain stubbornly high throughout 2011.
Fed chairman Ben Bernanke said higher prices had hit consumer spending, but that they should start to fall.
Yet he further cautioned that weakness in the financial sector, and the continuing slump in the housing market, could also be holding back the economy - problems he said "may be stronger and more persistent than we thought".
Falling prices?
Regarding higher prices, Mr Bernanke said they were likely to only be "temporary".
"In particular, consumers' purchasing power has been damaged by higher food and energy prices," he said. "However some moderation in gasoline prices is now a prospect."
Mr Bernanke added that the US manufacturing sector, especially the car industry, had also been hit by supply problems due to the aftermath of the Japanese earthquake and tsunami.
However, he said such supply chain disruptions were "likely to dissipate in coming months".
Despite downgrading its growth forecast, the Federal Reserve confirmed that it would complete its $600bn (£373bn) bond buying programme by 30 June as planned, and announced no further measures to boost the economy.
Analyst Nick Bennenbroek at Wells Fargo in New York said that the Federal Reserve's statement "disappointed investors".
Rates held
The central bank's latest economic growth estimate was released after its policy-setting Federal Open Market Committee voted unanimously to keep US interest rates on hold for the 22nd meeting in succession - as had been expected.
US interest rates have now been between 0% and 0.25% since December 2008 in an effort to boost economic growth.
The Federal Reserve said rates would probably remain at this level "for an extended period".
Regarding unemployment, the central bank said the jobless rate would probably average between 8.6% and 8.9% towards the end of the year, down from 9.1% in May.
On its inflation estimate, the Federal Reserve said the picture was little changed, and that it should average between 2.3% and 2.5% this year.
Greek situation
Mr Bernanke also addressed the continuing debt woes of Greece in his press conference.
With the Greek parliament now due to vote next week on the latest round of spending cuts the European Union says is necessary before it gets another vital loan, Mr Bernanke said the situation was of concern to the US.
"If there were a failure to resolve that [Greek debt] situation it would pose threats to the European financial system, the global financial system, and to European political unity," he said.
"So yes, we did discuss it and it is one of several potential financial risks that we are facing now."