KLM plans to fly planes on reused cooking oil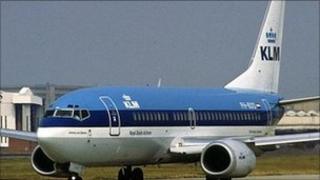 The Dutch airline KLM says it plans to use recycled cooking oil on 200 flights between Paris and Amsterdam.
The fuel, biokerosene, is derived from used frying oil, which has to be tested to meet the same technical specifications as traditional kerosene.
Airlines are under EU pressure to cut their carbon emissions by 3% by 2012.
KLM's interest in biofuels dates back to 2009, when it ran a test flight carrying 40 people, including the then Dutch economics affairs minister.
The 90-minute flight was majority powered by traditional aviation fuel, with just one of the its four engines powered 50% by biofuel.
Future flights will use half traditional kerosene and half biofuel.
KLM said its supplies - which are collected from hotels, restaurants and factories before being sent to the US for refining - were currently only enough for 200 journeys.
But KLM's managing director, Camiel Eurlings, said it was aiming to go much further than that: "The route to 100% sustainable energy is enormously challenging. We need to move forward together to attain continuous access to sustainable fuel."
The biokerosene flights are expected to start in September on some or all of the six flights a day between the two cities, although the company needs authorisation before they can go ahead.