H&M profits fall again on higher materials and wages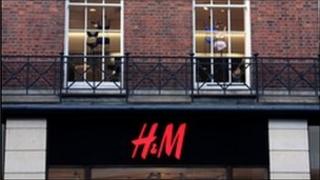 Budget fashion chain H&M has said profits fell again in the second quarter of the year as both cotton prices and wages rose.
Even so, Hennes and Mauritz, the world's second-largest fashion retailer, said its gross profit margin fell from 65.9% a year ago to 61.7%.
Profits at the Swedish company fell 18% to 4.3bn kronor ($673m, £415.4m).
The figures contrast with rival Zara, which has escaped the problem of Asian wage inflation.
Its parent company, Inditex, last week reported quarterly profit up by 10%. It makes more of its clothes in North Africa and Spain, so is less exposed to rising costs in Asia.
H&M also said it had put aside a 248m Swedish crowns related to an incentive programme for employees.
The company's chief executive, Karl-Johan Persson, said: "Increasing interest rates, higher energy prices and austerity measures in many economies have decreased consumer spending power."
But he added that the company had continued to gain market shares in what he described as "a very challenging market".
Most of the company's shops are in Europe, where economies are largely stagnant.
H&M said it had not raised prices throughout the three-month period.