France wants more regulation of food commodity prices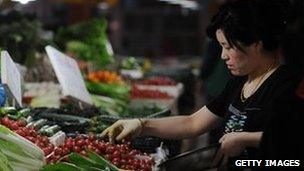 French President Nicolas Sarkozy has called for the G20 nations to put in place tighter regulation of food commodity prices.
His comments came in an address to G20 agriculture ministers, who are meeting in Paris to devise ways to tackle the high cost of food.
"A market that is not regulated is not a market but a lottery," said Mr Sarkozy.
Formal announcements from the two-day meeting are due on Thursday.
France is leading the call for tougher limits on speculation in food commodities, but the UK is taking a more cautious approach.
"The question of speculation is one where the jury is out," said Britain's Agriculture Secretary Caroline Spelman.
"I think it is not obvious that it's the only reason why there is price volatility.
"I think it is principally because of supply and demand so we have to actually address the fundamentals in the market place if we are to get stable prices."
The meeting comes after the World Bank unveiled a new measure to provide protection from volatile food prices in developing countries.
Looking at the threat posed by volatile food prices, the World Bank has introduced a new risk management tool for the developing nations called the Agriculture Price Risk Management (APRM).
The organisation said, its new tool will allow better access to hedging, and thus shield consumers and producers of agricultural commodities from price volatility.
It will protect buyers from price rises in food-related commodities such as wheat, sugar, cocoa, milk, live cattle, corn, soybean, and rice, the bank said.
"With this new tool, we can help farmers, food producers, and consumers protect themselves against price swings, strengthen their credit position, and increase their access to finance," said World Bank President Robert Zoellick.
"This tool shows what sensible financial engineering can do: make lives better for the poor," he added.
"People are hungry for food and for action on a global level," he added.
The World Bank says that since June last year, rising and volatile food prices have led to an estimated 44 million more people living in poverty, under $1.25 (£0.77) a day.
It estimated that there are close to one billion hungry people worldwide.