Qantas announces profits and Rolls-Royce settlement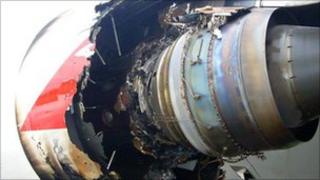 Australian carrier Qantas has agreed on a settlement with engine-maker Rolls-Royce over a mid-air blast incident and the grounding of the Qantas fleet of superjumbos.
Rolls-Royce will pay 95m Australian dollars ($100m; £62m), said Qantas.
The compensation helped boost Qantas' pre-tax profit for the year ending 30 June 2011 to between A$500-550m.
The airline has faced a string of natural disasters that have disrupted flights this year.
The settlement is in connection with a Qantas A380 plane that had to make an emergency landing after one of its engines exploded shortly after take off from Singapore on 4 November last year.
The engine was a Rolls-Royce manufactured Trent-900.
Qantas initially grounded all six of its Airbus superjumbos after the blast.
Qantas chief executive Alan Joyce said the settlement marked the end of legal proceedings the airline brought against Rolls-Royce in December.
"Qantas looks forward to a continued strong relationship with Rolls-Royce on the basis of the settlement announced today," the airline said in a statement.
Ongoing trouble
However the disruptions continued for Qantas into this year, first from earthquakes in Japan and New Zealand, then floods and cyclones in Queensland, and more recently from an ash cloud.
Qantas was forced to cancel flights last week, and again on Monday, because of the massive ash cloud, which came from an erupting Chilean volcano.
Tom Ballantyne, chief correspondent with Orient Aviation, told the BBC the airline is having a tough time.
"Qantas faces multiple challenges, because it's losing money on international routes and facing major staff issues with threats of strikes. It has been six months of bad news, life is not easy for them right now", he said.
Flights are starting to resume on Wednesday from airports in southern Australia, after two days of cancellations left thousands stranded.
Qantas estimates that, as of Monday 20 June, disruption caused by the volcanic ash will have cost the company A$21m.