Which? warns over standard variable rate mortgages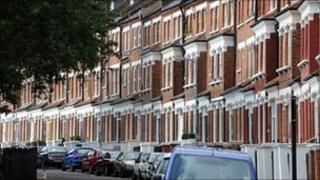 The consumer group Which? has accused banks and building societies of putting the squeeze on homeowners who have standard variable rate mortgages.
Which? warns that thousands will be pushed into financial difficulty when interest rates go up.
More than 40% of mortgage borrowers are now on standard variable rates, which kick in after cheap introductory mortgage deals expire.
The highest are around 6%, double the cost of the best value mortgages.
'Angry'
"They're just milking people," one homeowner from Peterborough, Mark Fellowes, complained to BBC News.
The interest rate on his Egg mortgage dropped by just 1.5% when the Bank of England cut official rates by 4.5% after the financial crisis, he said.
"I was very puzzled initially and then you just get angry."
Which? research suggested that 95% of lenders had failed to pass on cuts to standard variable rate customers in full when the Bank of England reduced interest rates.
Since then, 20% of lenders have actually put their rates up, while the Bank's rate has stayed at a record low of 0.5%.
'Recapitalising'
The Council of Mortgage Lenders said that the standard variable rate, or SVR, is dependent on the cost of attracting deposits from savers, rather than the Bank of England.
But its director general, Michael Coogan, told BBC News that lenders have been widening their profit margins after losing heavily during the crisis.
"I think what we have is the banks and the building societies trying to restabilise the system which was in shock in 2008," he explained.
"They are trying to recapitalise their organisations, deal with past losses, deal with the risk of future losses, and at the same time keep their customers as happy as possible through the economic cycle."
'Vulnerable'
An increasing number of families with large loans are trapped on their lender's standard variable rate because other banks and building societies don't want their business.
These financially-stretched households could suffer badly if the Bank England starts to push interest rates higher.
David Hollingworth from the mortgage brokers, London & Country, said they should brace themselves for larger monthly payments.
"I think lenders will look to push up standard variable rates by more than any base rate increase," he warned. "That's where vulnerable borrowers really stand to lose."
Mark Fellowes' lender, Egg, said: "We strive to maintain good rates for all of our customers based on how mortgages are funded.
"Funding is based on wholesale market rates, specifically Libor, which are frequently at a premium to Bank of England base rates."
Mr Fellowes has managed to move to another lender, choosing a mortgage which does track the Bank of England's rate.
He is saving £120 a month.