LTA sees British tennis success on and off the court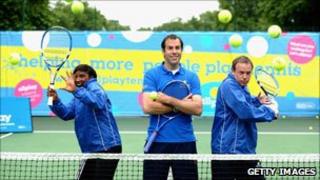 Having overseen the £11bn sale of Alliance Boots to private equity firm KKR, businessman Richard Baker might be forgiven for thinking he had handled most commercial challenges.
However, the way the 48-year old describes it, the task he faces as an independent non-executive director with the Lawn Tennis Association (LTA) is equally complex.
For the past year he has been offering his business expertise and professionalism to the LTA, taking a keen role in its commercial operations as well as sitting on the audit committee.
"The variety of responsibility is so much greater than in business," says Mr Baker, who works part-time on a voluntary basis for the tennis governing body of Britain.
"When you work in business, you have a relatively straightforward purpose, to make a return on investment and to take care of the profit line for the year.
"In a national governing body, you have got 25 different outcomes - and I have been very impressed so far by how all the tasks are handled."
Ten-year plan
He also says the LTA has to take a much longer-term and wider-ranging view than any business would.
"We are looking in the context of a 10-year plan, which we are endeavouring to do to everyone's satisfaction," the keen amateur tennis player adds.
"As a national governing body, there are many different things the LTA is required to do, from its strategy for grass roots to organising major tournaments."
These range from amateur junior, senior and veterans tournaments, up to professional events such as the Aegon event at Queen's Club and the ATP tour finals at the O2.
And Mr Baker is also proud of the financial performance of the LTA, which has its offices at Roehampton in south-west London.
Group revenues have gone from £47.2m in 2006, to £65.3m in 2010, of which £31m came from the surplus handed over by the All-England Club from staging Wimbledon.
And commercial income, from sources such as TV rights, hospitality, ticketing and sponsorship, has risen from £3.5m in 2006 to £7.6m in 2010.
'Fantastic deal'
Part of the rise in commercial income was from the five-year deal signed with insurance and pensions firm Aegon in late 2008.
That deal, which replaced a raft of other sponsorship deals, was reported to be worth £25m, although the LTA has not confirmed any figure.
"It was a fantastic deal in the middle of the credit crunch," says Mr Baker.
"We used to have a lot of different sponsorships with various companies, but went to one overall sponsorship structure.
"This money we generate is then reinvested back into facilities for tennis."
He points out that the objective of the LTA is not to make a profit, but to invest in capital projects and run programmes such as All Play, designed to help more people take part in the sport.
'Positive'
Despite this, there has been criticism of the LTA and its stewardship of tennis.
Accusations range from the failure of British players to make an international impact, to the allegedly high LTA salary bill, to the sport not shedding its perceived middle-class image.
"Our job is to ensure that this game is in better health in 10 years' time," says Mr Baker, who is also chairman of DFS furniture company.
"Most of our performance charts are positive - but the charge is that we have not produced a Wimbledon champion in 75 years."
He said that the LTA took "a healthy interest" in supporting elite players, but that it also supported hundreds of other upcoming players at different levels of the game, so that a pool of talent was "always topped up".
However, one area of confusion appears to be around how many people are actually playing tennis in England.
Latest figures from Sport England for April suggest the number of adults playing in England is falling, whereas the LTA says its research among its affiliated clubs shows an increase in the overall number of adults and children playing.
"There is interest there in tennis - look at Wimbledon, it is always sold out, the Aegon is sold out," says Mr Baker.
"That is a measure of the appetite for the game. Also, Sport England is supportive of what we are doing."
'Modern'
And on claims that the LTA is less than transparent, or that its payroll is bloated, Mr Baker fires back.
"We are probably one of the most modernly run bodies in terms of governance, we have a board, not a council," he says.
"We have people from outside the sport, professional business people, and we are very accountable.
"The main board meets six times a year and we regularly publish accounts, results and measures."
Mr Baker says he believes the LTA provides the same level of clarity as a FTSE 250-listed company.
"I feel there is terrific transparency, regarding what is going on and where our money is going," he adds.
On pay - there has been criticism of chief executive Roger Draper's reputed £400,000 salary - Mr Baker said he could not discuss individual remuneration.
"But we have an independent remuneration panel, of two senior members of the main board and one independent non-exec member of the board - Val Gooding, former chief executive of Bupa," he adds.
Tennis 'values'
Meanwhile, although the LTA has seen its Sport England grant cut, Mr Baker says the body has a clear picture of its financial health of the next three to five years, and what it can afford to back.
"And we have reserves in the tens of millions of pounds for a rainy day."
On the charge that tennis remains a middle-class pastime, he points to the LTA's Beacon programme to update facilities on public parks "for people who do not find themselves living next door to a tennis club".
"We are connecting with local authorities and schools to try and optimise all the courts available," says Mr Baker.
"We are also running a campaign on our website, where you can find someone to play in your area, or also find a co-ordinated tennis programme."
And he says that playing tennis and watching his two children play is very important to him.
"It is a sport that has got values and standards, and is something you can still be playing as an 80-year-old," he says.