UK public sector borrowing falls back in May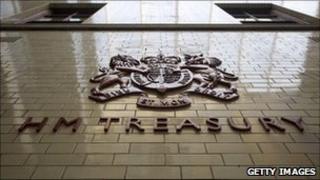 Public sector net borrowing fell in May, reversing a surprise overshoot in government borrowing seen in April.
The total borrowing requirement, excluding the cost of bank bail-outs and other interventions, was £17.4bn for the month, the Office of National Statistics (ONS) said.
This was down 6% from a year ago, helped by a jump in VAT receipts.
It takes some of the pressure off the Treasury, coming after an unexpected 5% rise in April's borrowing figure.
Debt servicing
Total tax revenues rose 8.2% to £38bn, boosted by the January increase in the VAT rate from 17.5% to 20%, which pushed VAT receipts up 17%.
In contrast, total spending in the month rose just 2.2% to £51.7bn.
One of the fastest-growing components of spending was interest payments.
The bill for servicing the UK government's debtload, which has now reached 60.6% of annual economic output, rose 8.9% to £4.4bn, or 8.5% of total government spending.
The government wants to cut total borrowing for the financial year by 15% to £122bn, in line with the forecast of the Office for Budget Responsibility.
However, two months into the year the government is still struggling: borrowing has increased slightly for the year to date when April's surprise figure is included.
Tough battle
"The numbers for May are more or less in line with expectations," said Philip Shaw, economist at Investec.
"That still leaves progress during the full year so far as disappointing. It's early days, but we would be hoping to see more positive effects of the spending cuts coming through in the figures."
The data for the first two months highlight the the fact that the chancellor faces a very tough battle, according to Howard Archer, economist at IHS Insight.
"Going forward, the chancellor will need reasonable growth to lift tax receipts... and the current softness of the economy does not bode well on this front," he said.
"On the positive side, going forward the public finance figures should increasingly reflect the public expenditure cuts kicking in as many measures were enacted from April."