'China's Evian' seeks stock market listing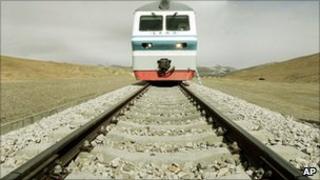 A mineral water company based in Tibet is seeking to raise up to HK$1.6bn ($205.3m) by listing in Hong Kong.
Tibet 5100 Water Resources says it will use the money to increase production capacity as it seeks to take market share from foreign rivals.
Sometime called China's Evian, its bottles cost five to six times more than other Chinese brands of mineral water.
It says the water is sourced from a spring at 5,100m above sea level.
"Our product contains only glacial spring mineral water collected and bottled in close proximity to the water source at the Nianqing Donggula Mountains in Tibet, one of the world's most remote and pristine locations," the company said in documents filed to the Hong Kong stock exchange.
Located on the "roof of the world", the company has benefited from the railway connecting Tibet with the rest of China.
Completed in 2006, the rail line made cost-effective transport to and from Tibet feasible and the company says it is usually able to deliver water to customers within 7 to 10 days.
Tibet 5100 says the market for mineral water has plenty of room to grow, with Chinese on average drinking 18 litres a year compared with 117.5 litres in Western Europe.
Foreign brands such as Perrier and Evian still dominate the Chinese market for premium mineral water, although their share is begining to shrink as home-grown brands like Tibet 5100 develop.
The five-year-old company is expected to list in Hong Kong at the end of the month.