Whitbread sales lifted by Costa Coffee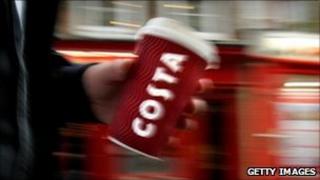 Strong sales and store openings at Costa Coffee have helped Whitbread weather the weak UK retail market.
Total sales at its coffee chain in the last three months were 22.5% up on a year ago, pushing group sales up 9.2%.
Its Premier Inns chain also did well thanks to strong sales in London, with 8% growth.
But trading at its restaurants was hurt by "a more difficult casual dining market" in the rest of the country, chief executive Andy Harrison said.
Like-for-like sales at its restaurants, which ignore the effects of new restaurant space, fell 1.4% compared with a year ago.
Expansion plans
The overall sales figures were largely in line with analysts' expectations, and have come ahead of Whitbread's annual general meeting, which is due to start later on Tuesday.
Business was "adversely affected by the extended Easter and Royal Wedding holiday", Mr Harrison added, with trading recovering well at Costa and Premier Inn afterwards.
Costa was boosted by the opening of 73 new branches during the period, as well as new customers joining its loyalty scheme.
Ignoring the new store openings, like-for-like sales at Costa were up 4%, and adjusted for the value of new loyalty points given away, they were up just 1%.
The hotel and restaurant group plans to open another 300 Costa Coffee outlets over the next year, a 15% increase, and to add 4,000 rooms to Premier Inn, which is a 9% increase.