Mortgage market 'to remain flat' lenders say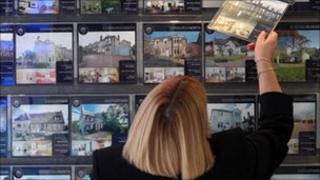 Lenders expect activity in the mortgage market to remain flat in the coming months, despite a rebound in May.
Gross mortgage lending in the UK totalled an estimated £11.3bn in May, up 12% from the previous month, the Council of Mortgage Lenders (CML) said.
The figure was 1% higher than in May 2010, but the lenders' group said the market remained relatively subdued for house buyers.
The CML said it expected no significant upturn soon.
The figures come as the government unveils more details about its Firstbuy scheme.
The shared equity scheme aims to help 10,000 first-time buyers get on the property ladder if they buy newly-built homes.
Remortgaging
The CML's gross mortgage lending figures include loans for house purchases and remortgaging.
The total in May returned to the same level as it had been in March.
"Lending in May recovered after low activity levels in April," said CML director general Michael Coogan.
"Distorting effects from Easter and bank holidays cloud the current picture, but the likelihood seems to be for essentially flat levels of lending over the next couple of months."
However, he said that home loans for house purchases were lower than a year ago. The pick-up in remortgaging, seen in recent months, was also running out of steam as expectations of an interest rate rise this year receded.
Jonathan Samuels, chief executive of Dragonfly Property Finance, said: "Competition and appetite among lenders is returning but they are still very conservatively minded, as indeed are borrowers in the current anxious economic climate."
Pledge
Separately, details of the developers and lenders potentially to be involved in the government's Firstbuy scheme have been released.
The project, announced in the Budget in March, will see loans offered to some first-time buyers purchasing a newly-built home.
Buyers must save a deposit worth 5% of their property's value, with the government and housebuilders putting up 10% each through an equity loan, enabling people to qualify for a 75% loan-to-value mortgage.
The equity loan would be interest-free for the first five years, with interest charged at 1.75% in year six, and at inflation plus 1% thereafter.
Housebuilders expected to take part include Persimmon Homes, Barratt Homes, Bovis Homes, CM Yuill Limited, Galliford Try Homes, Morris Homes Limited, Radian, and The Miller Group.
Lenders expected to take part include the Halifax, Nationwide Building Society, Barclays and the Melton Mowbray Building Society, according to the Department for Communities and Local Government.
The government's £250m pledge, funded from a levy on the banks, will only last for one year. Of this, £210m will be spent in England, with the rest spent in Wales, Scotland and Northern Ireland.
The scheme is less generous than the previous government's HomeBuy Direct scheme, which was considered a success by housebuilders.
The introduction of Firstbuy has not altered the CML's forecast for a relatively flat mortgage market.