Viewpoint: Urban leap-frogging in Asian cities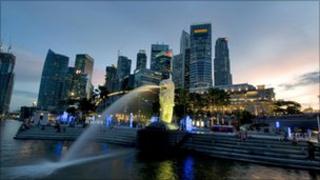 "Our country is planning to build more cities than humanity has ever built - could you advise us?" This question was put to us by a high-level Chinese delegate.
In fact, Asia as a whole is embarked on the largest urban programme in the history of mankind - with high stakes for the whole world.
Cities cover 2% of the earth's crust but host more than 50% of the world's population, account for 75% of energy consumption and are responsible for up to 80% of carbon-dioxide emissions.
The way we run our cities today will determine how well - or how badly - our planet will do tomorrow.
In Asia, there are great differences between large, top-down planned developments, such as those in China, and cities growing in a more organic, bottom-up manner, such as Jakarta, Bangkok or Mumbai.
Singapore is in a league of its own, experimenting with cutting-edge urban planning and new technologies to improve its efficiency. It has been one of the pioneers in dynamic traffic management, for instance.
South Korea, with its ubiquitous-cities programme, is also experimenting with the use of pervasive information technology in urban planning - linking virtually every part of the built environment through technologies such as wireless networking and radio frequency identification tags.
Engaging in change
During the past decade our cities have been blanketed with layers of digital data - telecommunications, sensor networks, smart metering infrastructure - which now form the basis of a vast, intelligent nervous system that can increase urban efficiency in many ways.
By inserting and extracting real-time information, we can reduce traffic congestion and improve air quality - as has been shown by Stockholm's introduction of a road-pricing scheme in 2005. The scheme reduced waiting times for vehicles in the central district by 50% and emissions of pollutants by up to 15%.
Similar results can be achieved when dealing with other pressing urban issues, such as citizen services, energy consumption, or water management.
As the lack of space becomes a major constraint and existing urban infrastructures cannot be upgraded easily, smart technologies can allow for large efficiency gains at a relatively low cost.
Singapore, for instance, has just invested 100 million Singapore dollars ($80m; £50m) to support the development of mobile applications based on the exploitation of large amounts of real-time data.
As the largest urbanisation programme ever attempted by humanity is under way, the hope is new technologies and the inventiveness of billions of citizens will come up with innovations that will avoid repeating 20th Century urban mistakes on a larger scale.
Carlo Ratti teaches at MIT, where he directs the MIT Senseable City Lab, and practises architecture in Turin, Italy. Kristian Kloeckl leads the real-time city group at the MIT Senseable City Lab and heads the Lab's LIVE Singapore! initiative as part of the Future Urban Mobility group at the Singapore MIT Alliance for Research and Technology (SMART).
The opinions expressed are those of the authors and are not held by the BBC unless specifically stated. The material is for general information only and does not constitute investment, tax, legal or other form of advice. You should not rely on this information to make (or refrain from making) any decisions. Links to external sites are for information only and do not constitute endorsement. Always obtain independent, professional advice for your own particular situation.