Rory McIlroy: Golf's golden boy set to cash in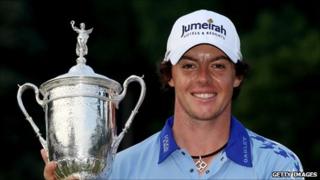 When Rory McIlroy won the US Open late on Sunday night, he not only pocketed a cool $1.44m (£890,000) in prize money, but opened the door to a potential bonanza in future earnings.
In becoming the youngest player to win a major since Tiger Woods triumphed at the Masters in 1997, McIlroy is on his way to picking up the sort of money in sponsorship deals and appearance fees that Woods first made possible for the sport.
McIlroy's appeal is universal, according to John Taylor, chairman of Sports Impact, a sports sponsorship and PR consultancy.
"He's young, he's very charismatic," he says. "He will appeal to men because he's a great golfer, and to women because he's young-looking, almost schoolboyish."
McIlroy already receives an estimated $10m in endorsement deals with Dubai hotels group Jumeirah; Titleist who supply his golf balls and equipment; and sunglasses maker Oakley.
When those deals are due for renewal, he can expect to earn "double that, minimum", says Mr Taylor.
He will also have performance-related clauses in his contract, which he is set to cash in on, having been on Europe's Ryder Cup team last year and now having won his first major.
Mr Taylor adds that Jumeirah, which signed a new three-year deal as McIlroy's main sponsor last year, got a fantastic deal.
"They got in at the right time. As soon as you win a major, the price goes up. And he's tipped to win more before they renew."
Void filled?
While Mr Taylor, who used to manage tennis players including Steffi Graf and Stefan Edberg, says that the media are not over-egging McIlroy's star potential, Jock Howard, senior editor at Golf World magazine, says people should not get too carried away.
For McIlroy to win his first major at the age of just 22 is an amazing achievement but it is just the first step, Mr Taylor says. He has got to do it again and again and again.
But he admits that since Tiger Woods, who earned about $92m in sponsorship in 2009, spectacularly fell from grace, there is certainly a gap in the market for a new poster boy for golf and McIlroy could be it.
"There have been two or three years where no-one's filled that void," he says
"It's gone from this one-man domination to any of 20 or 30 guys and none of them so far have been able to dominate by winning every tournament by five, six, seven or eight shots.
"Rory showed signs [on Sunday] that he's the man to fill that gap because he won by eight shots."
And according to Mr Howard, McIlroy is in the right hands. His agent Andrew "Chubby" Chandler is a former player, whose other clients include top golfers Lee Westwood, Ernie Els and Louis Oosthuizen.
"He's got a great manager in Chubby Chandler who will maximise any earnings potential."
Appearance fees
Following McIlroy's success, there has been much talk about whether he will move to the US to earn more money playing on the PGA tour rather than in Europe.
The total purse money can be about three times the size in the US, compared with tournaments in Europe.
But Robert Green, editor-in-chief at Golf International, says that actually the "money element" is the other way round.
"In Europe he can get huge appearance fees, which are banned in America," he says.
He estimates that McIlroy, who until last night had only won two tournaments, would have received up to about £200,000 just for turning up. That could now hit £1m.
Plus he seems to like being at home, says Mr Green.
"Right now, why would he change a thing that's clearly working well?"
Performance matters
Although Tiger Woods at his peak could probably command appearance fees of about £3m in Dubai, Mr Green says that unlike Woods, who often had a fraught relationship with the media and the public, McIlroy seems to be "in touch with people".
"His image is excellent," he says.
But at the end of the day, it is how well you are actually playing that matters the most to sponsors, says Mr Green.
When Tiger Woods came back, he had been playing poorly. If he had been playing great, he probably wouldn't have lost as many sponsors, in Mr Green's opinion.
And nobody can deny that McIlroy is at the top of his game right now.
"He is by far and away the single most attractive prospect in golf at the moment," says Mr Green.