Blackberry firm shares fall sharply on poor results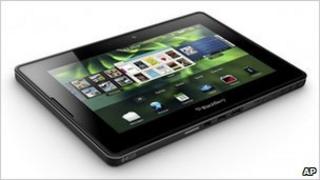 Shares in Blackberry manufacturer Research in Motion (RIM) have fallen by more than a fifth since it announced disappointing results on Thursday.
The company said that it had missed even its lowered expectations and reduced its profit forecasts.
RIM's net profit was $695m (£430m) in the three months to 28 May, down from $769m in the same period last year.
It warned in April that its profits would be low because of lower shipments of its Blackberry phones.
Share fall
RIM shares closed down by 21.4% on the Nasdaq exchange in New York.
The company has announced a cost-cutting programme, which will include job cuts.
"Fiscal 2012 has gotten off to a challenging start," said Jim Balsillie, joint chief executive of RIM.
"The slowdown we saw in the first quarter is continuing into Q2, and delays in new product introductions into the very late part of August is leading to a lower than expected outlook in the second quarter."
Immediately after the results were announced on Thursday company's shares fell sharply in after-hours trading and had to be suspended briefly.
"The guidance was just awful. The devices are receiving less shelf space and less support from carriers," said Peter Misek at Jefferies and Co in New York.
"People are not waiting. They're going to other platforms."
Delay
Research in Motion is struggling against new handsets produced by Apple or rivals using Googles Android operating system.
The company admitted that the release of its new devices would be delayed until later in the year.
Analysts were extremely critical of its performance.
"Bottom line, we believe RIM has no short-term fixes to improve its product portftolio, brand perception, to reinvigorate share gains, revenue growth and profitability," Citigroup analysts said in a note to investors.
Playbook
Industry observers say the firm may have become distracted with new products, especially its new tablet device, the Playbook.
In its results, the firm said it had shipped 500,000 Playbooks, but failed to give detailed sales figures.
"They've had a large focus on the Playbook internally, that launched this month. The company has been focusing on the Playbook that delayed them on getting new smartphones out to market," says Adam Leach from industry analysts Ovum.
Blackberry is not the only tablet manufacturer to have struggled recently.
Taiwanese PC manufacturer Acer announced this month that it was to cut 300 jobs as it reduced its shipment targets for tablets by 60%.
The world's second biggest PC manufacturer also cut its revenue forecast.
"It doesn't replace a smartphone and it doesn't replace a laptop, it's quite a tough sell to the consumer to buy one of these," said Mr Leach.
Blackberry is also working on the release of a new operating system for its smart phones based on its Playbook software.
Mr Leach says the market may be overreacting to the bad news.
"I do think they are they have a quite strong business, the last few quarters have been very strong for them," he says.