Greece: Merkel and Sarkozy urge bail-out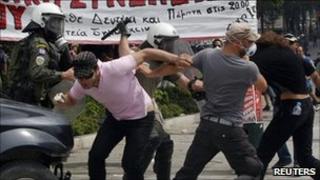 The leaders of Germany and France have said that they want a new rescue package for debt-laden Greece to be agreed as soon as possible.
Angela Merkel and Nicolas Sarkozy were speaking after Greece's Prime Minister George Papandreou announced a cabinet reshuffle.
The changes include a new finance minister, Evangelos Venizelos.
Mr Papandreou wants to impose political stability as Greece awaits approval for the next tranche of bail-out money.
"We are facing the greatest threat our country has experienced in recent decades," he told his new cabinet.
Also on Friday, Moody's ratings agency placed Italy's credit rating under review for possible downgrade.
The agency raised questions over Italy's economic growth and policies to reduce government debt.
'Voluntary involvement'
Mrs Merkel and Mr Sarkozy met in Berlin after a public disagreement between their governments over whether private investors should be forced to assume a greater burden to resolve Greece's debt crisis.
There had been calls in Germany that investors should allow Greece extra time to pay off debts and should be made to participate in future fundraising by the Athens government.
After the meeting, the two leaders said they agreed that any private sector involvement should be "voluntary", not compulsory.
It was unclear under what terms private investors might voluntarily take part in a Greek bail-out.
But the comments by Mrs Merkel and Mr Sarkozy were seen as a signal to banks and bondholders that they will not be made to incur losses on Greek debt.
Mrs Merkel is facing a backlash domestically over Germany's huge financial contribution to European bail-outs.
France's big three banks - Credit Agricole, BNP Paribas and Societe Generale - are heavily exposed to the Greek economy.
This week, ratings agency Moody's warned it may downgrade the three French banks because of their exposure to Greece.
No 'credit event'
Mrs Merkel and Mr Sarkozy stressed that a "voluntary" extension of maturities of Greek government bonds held by private investors should be part of that solution in order to ensure market stability.
"There are worries that we want to cause a credit event," Mrs Merkel said. "We do not want that. This is about a voluntary participation."
Rating agencies and the European Central Bank had warned that imposing a rescheduling of Greek debt on bondholders would count as a "credit event" - a partial default by Greece - sending panic through financial markets and intensifying problems in Portugal, the Irish Republic and Spain.
The announcement from France and Germany eased tensions in financial markets.
After initially extending their week-long falls, Europe's main bourses recovered on Friday, with France's Cac 40 and Germany's Dax indexes both closing up about 0.8%. The UK's FTSE 100 was up 0.3%.
In New York, the Dow Jones index climbed 0.7% in morning trading.
A Spanish bond auction underlined the fears of contagion from the Greek crisis, with investors demanding a higher rate of return.
Although appetite for the issue was strong, the average rate demanded for the 15-year bonds was a euro-era high for Spain of just over 6%.
The yield on Spanish 10-year bonds is near an 11-year high, trading on the secondary market on Friday at 5.64%, just off the rate's peak of 5.70% on Thursday.
Financial lifeline
The new Greek finance minister, Evangelos Venizelos, will take over from George Papaconstantinou, and the move sparked a jump in Greek bank shares.
"I am here by patriotic duty to carry out a real war," said Mr Venizelos, a former defence minister.
However, analysts were divided over whether the cabinet reshuffle would restore confidence.
The European Union's top financial official, Olli Rehn, has indicated that Greece is likely to get its next round of funds in July if Mr Papandreou's government can pass new budget cuts and privatisations before the end of the month.
Greece needs a 12bn-euro loan to avoid defaulting on its debts due for repayment over the next few months.