Viewpoint: What makes an ideal city?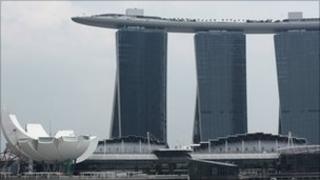 No idea is more elusive and tantalising than what makes the ideal city.
When asked about our favourite places, we mostly come up with places rich in history - pre-automobile cities with charm and the texture, patina, and sense of memory bestowed by time.
We think of Venice, Paris, Amsterdam, or London, or even quainter, more ancient well-preserved places.
Yet the ideal city cannot just be a museum piece, a throw-back to the past, as enjoyable as it might be. The ideal city must be a vital, contemporary city, one that combines history with an energy and vitality.
This might conjure up Rio de Janeiro or Buenos Aires, Hong Kong, Berlin, New York or Los Angeles. Each of these cities, upon further examination, has much to offer and yet, much left to be desired.
We dream of a city that has a combination of history, vital cultural life, is prosperous, endowed with exciting physical features, such as great rivers, bays and harbours, mountain ranges, with at least one season with a gentle and comfortable climate.
We dream of these cities as being well-managed and administered, relatively clean and absent of congestion, offering mobility, access, the capacity to partake and enjoy in urban life.
Of course as cities get larger and larger, the challenge of dealing with mega-scale, overcoming its dehumanising effects and avoiding over-building becomes a central occupation.
The challenge of the day is - can the mega-cities of the world emerge with the qualities we seek in the smaller, vital cities of the past?
For the architect and urban planner, working in Asia offers the greatest range of opportunities and possibilities.
Dozens of cities are growing at an extraordinary pace. With that comes opportunities of great interventions, new projects, rethinking urban transportation, creating vast new park systems, and experimenting with urban design strategies that might improve the quality of urban life.
I shall never forget my first visit to China in 1973, amidst the Cultural Revolution, visiting Shanghai, Beijing, Nanjing and Guangzhou before there was a single skyscraper present in any of them.
At that time 90% of the traffic was bicycles. There was not a single freeway in China, nor was there a subway line.
Now, almost 40 years later, these cities have surpassed most others in scale, size, concentration, in their growth often repeating the same errors we experienced in the West - an opportunity lost to do things better.
Yet, there are the next 40 years looking forward, and we, perhaps wiser and sobered by ecological and environmental constraints, by the limits on available energy and its cost, might make the next doubling of the scale of cities more wholesome and rational.
Badly designed cities are generally bad because they are not designed at all.
There are cities that allow growth to occur unchecked, driven by the market alone, and great polarisation of income in the population, resulting in concentrated and severe poverty.
Often this comes with poor municipal services, and above all congestion, crowding, a lack of open space, and a compromise of their natural feature, such as industrialized riverfronts and harbours and consumed natural amenities to the deprivation of the public at large.
Economic growth and rising standard of living, greater social justice and cultural as well as economic vitality are the essential ingredients for vibrant cities in the future.
The negation of any of these ingredients would lead to disappointment.
Clearly, vibrant cities, while requiring an open and free society whose cultural explorations enrich the city, also require resources and sound governments to put in place the planning and regulatory processes capable of achieving great urban places.
Moshe Safdie has designed and realised projects around the world, including cultural, civic, and educational institutions; mixed-use urban centres and airports; and master plans for existing neighbourhoods and entirely new cities.
The opinions expressed are those of the author and are not held by the BBC unless specifically stated. The material is for general information only and does not constitute investment, tax, legal or other form of advice. You should not rely on this information to make (or refrain from making) any decisions. Links to external sites are for information only and do not constitute endorsement. Always obtain independent, professional advice for your own particular situation.