Companies harness mobile phones to protect staff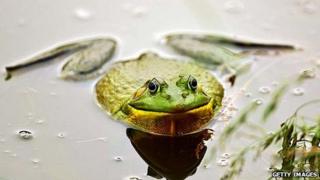 The tale of the boiling frog, if you don't know it, goes thus: if you place a frog near boiling water it will sense the danger and escape as quickly as possible.
If you place the frog in lukewarm water and bring that slowly to the boil it will not notice and inevitably die.
This unpleasant anecdote is what lends its name to the Boiling Frog mobile phone application.
It is a travel and health app created by ex-special forces and medical experts to provide advice on everything from sunburn and food poisoning, to dealing with unwelcome surveillance, being shot at and how to avoid being kidnapped.
One reviewer likened its written, video and audio guides to "having Jack Bauer in your pocket".
"The boiling frog anecdote is often used when travelling in challenging environments," says the app's founder, Hugh Martin.
"When you are first there you will hear a mortar and you will want to take cover, but after three or four months people stop worrying, become blasé and that's when they become a casualty."
The app might be useful when bullets are flying but its origins lie in a rather less exciting tale of travelling woe.
"We were flying from Georgia to the West Bank and we had to go via Vienna," explains Mr Martin.
"We got stung for £2,000 for excessive baggage because of all the manuals we were carrying to hand out to clients."
Disaster response
These twin concepts of staff safety and practicality explain why more companies are turning their attention to mobile phones as a way to protect their staff.
Financial services group Deloitte recently launched a crisis response app called Bamboo, which it aims to roll out to the mobile phones of 100,000 staff across the world in the next two years, while also licensing it to clients.
"During an incident, the majority of employees take only their personal belongings with them, such as wallets, keys and, of course, their mobile phones," says Rick Cudworth, head of resilience at Deloitte.
"In recent incidents clients told us they found plans were out-of-date, contact details were incorrect and the telecoms network suffered failures making voice and data communications difficult," he says.
Deloitte's app holds disaster response plans that are particular to the user of the handset.
It can be updated using push technology as and when the user's company requires.
It can also record individuals' responses to a disaster, creating an audit trail for regulators, along with giving companies the chance to learn any lessons from the event.
World's 'toughest phone'
Staff don't need to be in a war zone or disaster area to have their safety put at risk.
Those in construction, security and health will be well aware of the inherent dangers, particularly when working alone.
Silicon Valley-based Sonim Technologies has created what it claims is the world's toughest phone with just such lone workers in mind.
Its hard-nut credentials include surviving being frozen in ice or dropped in oil, and a screen strong enough to hammer a nail into a piece of wood.
The £450 ($725; 513 euros) phone, reassuringly named The Sentinel, has colour-coded buttons that allow users to indicate to a trained emergency response team what level of danger they are in.
Among its other life-affirming assets is a novel use of the phone's accelerometer - the piece of technology that is usually used to rotate the screen when you tip your phone.
"We use it to detect an accident just like an airbag sensor in your car," says Sanjay Jhawar from Sonim Technologies.
"For example, if you fall from height it will measure freefall speeds as well as strength of impact," he says.
The Dutch branch of Securitas, the world's largest security organisation, started using Sentinel in December.
One night headquarters received an alarm indicating a security guard had fallen.
It turned out the guard had been patrolling a residential neighbourhood and while walking through a garden fell into a swimming pool.
He was declared "wet but OK".
Listening in
Henderson Risk Limited is a British company with a subsidiary based in Pristina, Kosovo, which provides cash transportation services for a number of international banks in the region.
It has recently upped its security by adding an app called Cellcrypt to staff phones, which will encrypt phone calls that employees make discussing confidential plans, such as movements of cash.
But surely Henderson's heavy duty vans, with golden lion emblazoned on the side, are more of an advert for the firm's movements than its phone calls?
Not so, says Stuart Quick, the firm's operations manager.
"Like with many crimes people need information before they can commit [robberies]," he says. "Opportunists don't tend to burgle banks or set up ambushes - they need to know what is happening; where things are going."
"If you go about advertising this on an unsecure line then it's easy for them to make a plan," he says.
Telephone encryption technology is becoming ever more important as almost anyone from national security agencies to everyday criminals can listen in on conversations if they put in the effort.
Calls can be intercepted, locations traced, and information can be pieced together to paint a picture of who is talking to whom, where they are going and what they may do next.
The price of the technology needed to do this starts at a mere €2,000 (£1,750; $2,830) and is all available over the Internet.
Secure line
Dr Bjoern Rupp is CEO of GSMK CryptoPhone, which makes mobile phones so heavily encrypted that anyone spying will have trouble working out if there is a call at all.
His phone disguises both users and sends out a signal disguised to look like someone is surfing the web.
This can be of particular use to human rights groups in hostile countries, who want not only to disguise what staff are saying, but the relationship of the speakers.
Dr Rupp says in the modern business environment the physical wellbeing of staff is not the only thing under threat, it is the information in their heads as well.
"For example, if you are a medium enterprise doing a deal in China, how do you communicate a best and final offer to your colleagues? Over an open line? If you do you've just divulged that secret to everyone," he says.
Henderson's Stuart Quick agrees.
"I work with companies which, if they go to Russia or China, take brand new phones and computers," he says. "When they come back those items are destroyed to prevent information from being stolen."
Privacy concerns
Often the effectiveness of mobile phone security is predicated on the idea firms can tell exactly where their staff are at any given moment.
Unsurprisingly some staff will object to having their every movement monitored.
Colin Walker-White is operations manager at Heathrow Air Ambulance Service, which offers a global medical repatriation service.
His teams of medics were recently issued with a mobile phone from InTechnology, which also doubles as a 2-way radio, allowing them to quickly communicate without having to dial numbers.
But it also allows him to track their whereabouts.
"I'm looking at a screen right now and I can see three vehicles at Heathrow [airport] and one tracking just south of Amsterdam," Mr Walker-White says.
This new services was initially met with scepticism by some.
"We sat down with the crews and said it had the facility to track but I explained I want to use it for the best of reasons, it is not a disciplinary tool" he says.
"Now if the airport asks where someone is I don't need to hassle the crew - they have enough to do without me phoning up to ask how long they are going to be."