Greece debt crisis sends financial markets falling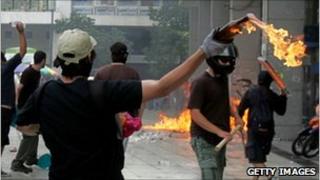 Financial markets have fallen on investors' concerns about the impact of Greece's economic crisis.
London, Paris and Frankfurt's key share indexes were initially down more than 1%, although they recovered somewhat later in the day.
The sell-off followed falls in Asian markets, with investors worried that the Greek economy has reached a tipping point and that contagion will spread.
Greece's prime minister is forming a new cabinet to pass austerity measures.
London's FTSE 100 index closed down 0.8%, the Dax in Frankfurt fell 0.1% and the Cac 40 in Paris ended the day 0.4% lower.
The euro hit a three-week low at $1.4090.
Greek two year bond yields rose 1.6 percentage points to 28.6%.
"The clock is counting down. The financial markets are worried about a disorderly Greek debt default," said VTB Capital economist Neil MacKinnon.
"The risk of a 'Lehman Moment' for the eurozone is increasing," he added, referring to the collapse of the Wall Street bank in 2008, which caused panic and a global credit crunch.
To avoid the government defaulting on its debts, George Papandreou must pass new spending cuts and sell-offs of state property to receive new bail-out funds from the European Union and International Monetary Fund.
But rioters have again taken to the streets, and on Thursday, George Floridis, Greece's former deputy finance minister, resigned in protest at the slow pace of economic reforms.
There have been reports that Mr Papandreou may seek to replace his finance minister, George Papaconstantinou, the main architect of hugely unpopular budget cuts.
Default fears
The crisis comes amid a backdrop of soaring unemployment, with new figures on Thursday showing that the jobless rate rose to 15.9% in the last three months, up from 14.2% for the same quarter last year.
French and European Central Bank officials have warned that a restructuring of Greece's 350bn-euro debt as proposed by Germany could cause a default that would shake the whole eurozone.
French President Nicolas Sarkozy on Thursday urged other European leaders to find a compromise on Greece's debt crisis to stabilize the euro.
Without stability, there would be no economic growth in the eurozone, he said.
France's three biggest banks are at risk of a credit downgrade because of exposure to Greek debt.
Shares in Credit Agricole, Societe Generale and BNP Paribas lost more than 4% after Moody's said it may downgrade them due to their exposure to Greece.
Shares in Franco-Belgian lender Dexia fell as much as 10%. Shares of Portugal's BCP have lost 8% in the last two days.