Mulberry profits surge as fashion group expands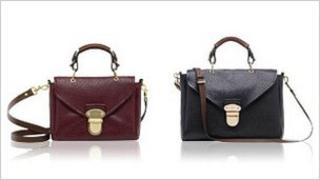 Luxury fashion group Mulberry has reported a sharp rise in profits as the boom in luxury goods continues to defy the economic gloom.
Pre-tax profit for the year to March jumped to £23.3m from £5.1m a year ago.
Like-for-like sales, which strip out the impact of store openings, increased by 43%.
Mulberry's strong results follow a 40% rise in profit at fellow luxury brand Burberry, while Prada starts trading on the Hong Kong stock exchange on Friday.
Prada is seeking to raise up to $2.6bn (£1.6bn) from the flotation.
Guy Salter, deputy chairman of Walpole which represents luxury goods companies in the UK, said he was not surprised by the boom in the sector.
"This is absolutely not about a tiny elite of super-rich buying expensive toys. This is about many, many people buying small items which count as luxury goods items," he told the BBC.
"Around the world the middle class are getting richer and richer and they want to express themselves. They express themselves by buying new things."
Expansion
Mulberry said it had opened nine new stores during the past year and planned to open six more around the world in the next 10 months.
It also said it was expanding its factory in Somerset, adding 30% to its UK production capacity and creating 50 new manufacturing jobs.
The company said that since the end of its financial year, sales had continued to be strong.
Like-for-like sales were up 42% in the 10 weeks to 4 June, it said, while orders for its autumn/winter 2011 season were already 38% ahead of last year's total orders, with five months selling left.
"Strong demand in all markets has continued into the new financial year and the outlook for the Mulberry brand is positive," said Godfrey Davis, Mulberry chairman and chief executive.