Greece crisis: Commissioners 'fear future of eurozone'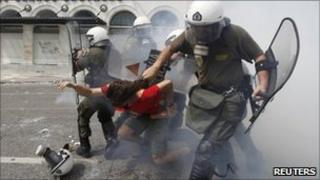 EU commissioners have a "profound sense of foreboding" about Greece and the future of the eurozone, a leaked account of a meeting has suggested.
The account, seen by BBC News, said this was in reaction to the "damning failure" of eurozone ministers to agree a new bail-out for Greece last night.
It was written by an official who attended Wednesday's gathering of commissioners in Brussels.
The author warned that the markets would now "smell blood".
The European Commission said it would not comment "on anonymous interpretations of meetings".
The document said that the planned second Greek financial rescue package on top of last year's 110bn-euro (£161bn; £98bn) bail-out would dominate the forthcoming European Council meetings next week.
It added that any default on Greek government debt - as espoused by Germany - would leave the Greek banks insolvent and "threaten the viability of the ECB [European Central Bank] itself" which owns 49bn euros of Greek bonds.
European Commission President Jose Manuel Barroso was said to be "clearly more worried now than he was a year ago when the sovereign debt crisis first broke".
He was said to have remarked that the markets would "smell blood" at this division between the ECB - which is set against any form of Greek default - and Germany, which wants banks to write off some of their investments in any second bail-out.
Senior European Commission sources told the BBC that President Barroso is increasingly frustrated at this lack of agreement and that the mood of the commission meeting was "sombre".
Markets have been signalling in recent weeks that they increasingly think Greece will default on its debt, by forcing up its cost of borrowing to unsustainable levels.
This was also the case during the run-up to the announcement of emergency loans to Portugal and the Irish Republic, as politicians said publicly that no bail-outs would be needed.
One ratings agency, Standard & Poor's (S&P), cut Greek sovereign debt to a CCC rating this week, its lowest rating for any country.
S&P expects Greece to default in some way on its enormous debts, which currently amount to almost 160% of Greek GDP.
Eurozone finance ministers are meeting again to discuss the crisis on Monday, ahead of a full meeting of all 27 EU prime ministers and presidents on June 23 and 24.